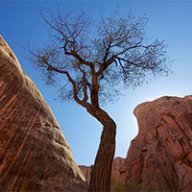 Joined

Aug 9, 2007
Messages

12,934
I really wasn't going to post a trip report for this one. Sometimes I feel a little guilty posting my motorboat-based adventures on BCP, especially when the hiking is light and it involves a houseboat like this time around. But I figure more trip reports are always good. And what better time of year than fall and winter to go back and post all the things we've been too busy to post throughout the year (hint, hint lurkers!). So here we go...
Last September
I took my sister and her family out on a Lake Powell trip with us. We were tent camping, and fortunately we had pretty amazing weather. It takes some pretty good gear and experience to successfully tent camp in Glen Canyon and my family joining us had neither. Luckily, there was only one storm worth hiding in tents for. I ended up staying out in it piling anything I could onto the tiny steel stakes holding down their palatial Coleman tent. After seeing my relatively stout REI Basecamp tents get laid down flat out here, it was a little concerning.
Fast forward to this past winter. They LOVED the trip with us, so the idea of adding a houseboat into the mix started to make sense. So we took advantage of some pre-season sale prices and scored a houseboat for 40% off the off-season rates. This sounds crazy, but that's just $1700 for 5 days over Labor Day. In peak summer, that would be more like $5000+! So we booked our boat and waited. As the trip got closer another sister of mine decided to join us, along with her husband and kids. Perfect for us, because we really just wanted the houseboat for them. Now we could camp like we usually do and have the peace of mind knowing they have a houseboat next door. Not to mention the awesomeness of some nice 'quiet time' while the kids are on the houseboat.
This being our first houseboat adventure, we decided to stick relatively close to the marina. I didn't know how much gas that thing would drink. I'd heard big numbers online, but we had a pretty small houseboat. I just had no idea. So we decided to shoot for Iceberg Canyon. Great scenery, relatively close (20 miles) and lots of hikes. But with it being Labor Day weekend, I knew campsites would be filled, so Audra and I headed down early to go stake out our spot. We arrived late on Wednesday night and setup camp in Stanton Creek. There was a lot of wildlife out that night. As we sat out on the boat winding down from the drive, a kit fox came up and riled up the dogs. Then later on, it seemed like we were surrounded on all sides by yipping and howling coyotes.
The view from the boat when I woke up that morning.
We hurried down to Iceberg to catch sites as they opened up. Early morning is the best time to get a nice spot. We checked a handful that I had been hoping for - all full. I was losing hope until we went up the Cathedral fork and found a sweet beach right near the top of the canyon (just up canyon from where
the flood happened in June
). Plenty of space for us and the houseboat. We spent the day settling in. I setup the new shade tarp which I loved. It was a great, lazy day. Later in the afternoon I was out kayaking when a gust blew through and took our big tent into the lake. We had it half setup but got lazy and left it lightly pinned down with just the round stakes while we took a swim break. Afterward I hopped in a kayak and went for a paddle when I heard Audra yell for me. I looked over to see the tent tumbling into the water. It was tough to get it out, but no damage was done. We set it back up and staked it down properly and it held the rest of the trip. We never slept in it though.
That night we took a cruise through Iceberg. Truly one of the best canyons on the Colorado Plateau. I'd do anything to experience this place pre-dam.
Back at camp, watching the last bit of light disappear on the walls.
The next day my family picked up the houseboat and started the long trip down to Iceberg. Turns out the small houseboats only do about 7mph so it took them a while. It was around 3 before they got to camp. It would suck to try and find a campsite that time of day in houseboat without a scout boat.
Looking down on my boat and camp from on top of the houseboat.
Sage checking out the upper deck of the houseboat.
Putting that thing to use. It was kinda fun.
Iceberg is a great canyon for kayaking and my family took full advantage. That's me, Sage and my niece in the closer boat.
Another niece of mine after she caught a tiny largemouth on a grub.
The fishing was really fantastic on this trip. Audra with a nice smallmouth.
The next day I took my sisters and their families down to the Escalante. Audra and a couple of the dogs stayed back in camp to read, nap and relax. Patina dug the houseboat.
Meanwhile in the Escalante...
For the first time ever (for me), the water was high enough to boat past the sand dune in Fiftymile Creek. Pictures could never do it justice, so I didn't even take many, but it was phenomenal.
We toured several of the Escalante Canyons, including going all the way to the top. The lake ended right above Explorer Canyon. I would have LOVED to go hike Explorer, but it was not in the cards in this trip. After returning to camp I dropped off the family and Audra and I (and the dogs) went out to fish solo for the evening. The fishing was great for boiling stripers.
And the sunset wasn't too bad either.
On Labor Day I had to run one of the families back to the marina. Group shot before heading out.
We dropped them off, filled up the tank and raced back to camp. This last full day was SO nice. We spent the midday hours soaking in the pool.
Playing with the new Outex case for my 6D.
Later in the afternoon we left the kids, old dogs and my brother in law behind and me, Audra and my sister went on a hike to the Iceberg Cathedral. Looking back at camp on the way up the canyon.
These were all deep pools when I was here in June.
Audra is usually the boat watcher. She was happy to get out for some exploration.
Family portrait in the Iceberg Cathedral. Photos just can't show what a cool place this is.
We raced back to camp knowing that our time on vacation was ticking away. Onto the boat and out to do some fishing and wakeboarding. The lake was empty compared to what it was pre-Labor Day. Smooth water, plenty of campsites, great scenery. Pro-tip: launch ON Labor Day. Oh, and watch out for those buoys!
The stripers were big, healthy and hungry. Best fishing I've ever had at Lake Powell.
The next day we sent the houseboat off first thing while Audra and I packed up the kayaks and everything else. We left the boat at the lake for the rest of the year. Maybe forever. After my July trip, I had a pretty bad taste in my mouth about these lake trips, but this one set me back on track. It was really, really good. 6 nights and I could have stayed much longer. Maybe it was the 2-month break. Maybe it was going back to having a real job in mid-August. Or maybe it was the lack of asshats launching water balloons at me. I'm not sure, but I'm looking forward to winter out there.