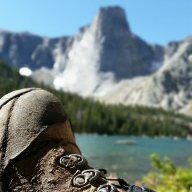 Joined

Jul 6, 2012
Messages

874
This won't be a legit trip report - you'll see why if you read on.
I headed up to the Uintas with two friends for a 3 night backpacking trip last weekend. We checked out some new territory starting at the Center Park trail head, hiking through Garfield Basin, and bagging Kings Peak. It was my first time on Kings (my previous attempt was a bust due to a storm). One of my buddies was ambitious and bagged South Kings as well. (By the way, it was cool to hit Kings from the way less popular south slope). We had a little bit of everything. Bugs, all sorts of weather, beautiful sunsets, wind, a bit of wildlife, fishing, cards, etc. It was a moderately arduous and great trip. But I left the trip with more questions and thoughts than I've had in awhile. I'm always looking to improve my experience - whether it be gear, the route choice, miles hiked, comfort, sleep, food, etc. So here you have my musings with a bunch of questions and thoughts. I'm not REALLY looking for answers but feel free to answer them, correct me, or add to my thoughts. I'm just kind of thinking out loud and musing.
I'll add a few pics at the end.
Sleep
What can I do to sleep better? All three nights were constant tossing and turning and it felt like I got very little sleep. Surprisingly, I woke up feeling quite refreshed. Maybe I got more sleep than I thought. I have a decent pad and bag. Maybe the 15 degree bag was a bit much and I was too hot. Oh! Here's one question I'm actually curious about. Why do I always feel damp/wet/clammy/humid regardless of the temperature?! Maybe it's just more humid up there. Ugh...I hate that feeling and I think that's part of what prevents me from sleeping well. I've tried stuff like benadryl and "PM" Tylenol and Ibuprofen. Meh...just makes me feel foggy while tossing and turning. Maybe a wider pad? I have a decent pillow that works well. I've got to try something new next time.
Filtering Water
Last summer we had two Sawyer Squeeze filters. Mine was SO slow and mucked up it barely worked at first. Backflushing helped some but several of us vowed "never again" with the Sawyer Squeezes. I've also tried the old school pumps, UV filter, some other stuff. We had a new toy on this trip.This time I splurged (it was a splurge for me anyhow) on cost and weight and I bought a new Platypus Gravity filter.
https://www.rei.com/product/866422/platypus-gravityworks-water-filter-system-4-liter
Holy crap we loved it! I'd always rolled my eyes at gravity filters and at all of you guys that have sung their praises - but you were all right. They rock. The only slight negatives in my book are: a little heavy, the air purging is a bit of a hassle, and the recommended backflushing is a hassle, too. Still. Loved it!
Carrying Water
I've been using a ZPacks water bottle clip. I've really liked it (after some modifications - velcro and zip tie for security). Well, it busted on this trip. I had to shift stuff in my back to one side (to make the side pocket "looser") so I could easily grab and put back my water bottle in without asking for help or dropping my back. I'm debating getting several new clips (possible taking a backup next time) vs getting the Zpacks water bottle sleeve. Any thoughts?
Hiking Boots
I'm a big fan of waterproof boots. I have some that aren't all crazy heavy. They really came in handy for the mud, river crossings, multitude of swampy sections, the snow, and for the unforgiving rockiness of the Uinta trails and peaks. One thing I noticed is that I didn't buy the right size with a big enough toe box. Argh. Poor bruised and sore pinky toes. Lesson learned. Do some of you really use "trail runners" in these harsh conditions up there? I've always been tempted to try lighter footwear. I have a low volume foot and I wonder if some La Sportivas (which I think generally run narrow) might be in my future - appropriately sized with room in the toe box! =)
Pain
My legs and feet generally did fine. (The pinky toes were tolerable). But my neck and shoulder muscles always get sore. Always. I started with about a 29 lb pack (heavy for some of you, light for others). I'm a small guy about 140lbs and 5'8". Anyhow, it's probably just me being out of shape from sitting at a computer all day. It makes me want to lighten my load and get more exercise - focusing on those muscles. I'm also wondering if I wear my pack wrong or if I load it poorly...hmm…
Lightning!!
What in the world are you supposed to do when you're camped right at treeline, in a pretty wide open space with sparse trees? We were chilling at camp and a storm was going on over the other side of the mountain. We saw a lighting strike pretty close. We talked about it but we didn't really know what the best protocol was. Duck in your tent? Hide in a thicket of low trees/shrubs (that's the only cover that was close by)? Ignore the storm and go with the odds? =) Run to lower elevation if it gets bad? Crouch down on your tippy toes? Crouch on something to insulate yourself from the ground? Anyhow...we were lucky the storms blew by and we only saw the one close-ish lightning strike. =)
Sunshirts
I've been liking the protection of a hooded sunshirt. I have a white Columbia PFG one (50 spf I think) that I wear in conjunction with a trucker/ball cap. It's great when it's not too hot. But if I'm climbing or working hard or it's sunny or there's no breeze, I get toasty! I've been researching some alternatives. Some of the lighter weight ones that sound nice for hot weather are only 15 spf. Maybe I need to go back to a wider hat with another type of shirt. I know it's good to protect myself from the sun, especially at high elevation, but dang I was jealous of my buddy who wore shorts and t-shirt when we were working hard. Hmm…maybe I just need to pack a load of sunscreen instead.
Miscellaneous Stuff
My cheapo rain suit (Frog Toggs) has been a good bang for buck. Super delicate, but light and reliable. And kept the bugs off!
I hate getting my pot all greasy when eating Ramen so I've been eating it out of a freezer bag. Works well but it's kind of difficult to eat. One night I ate my Ramen out of one of those bowls (that stores flat). It was nice but then that thing was all greasy. Argh.
I think we only had one Mountain House meal between the three of us. Reason to celebrate! =)
I love love love my little 2 oz. Z-Seat. I even converted the other two guys. We all had one.
I need to find a more durable cord that goes underneath my boot to hold my mini gaiters down. Those things barely last one trip.
I've had my black diamond compact trekking poles for, I swear, like 10 years + and they're still going strong. When will they die? Probably at a really inopportune time.
Who knew a backpacking trip would inspire so many thoughts and questions. If you're still reading, congrats. That felt like some serious rambling.
Cheers,
Mike
On the way in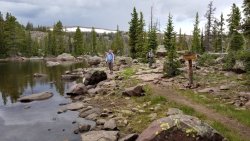 Small "pass" before dropping into Swasey Hole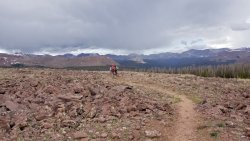 Dropping down, rocky trail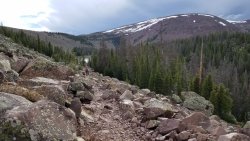 Nice sunset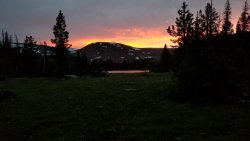 Fishing in Spider Lake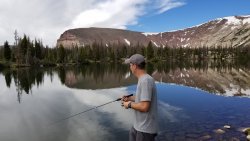 Looking back at Spider Lake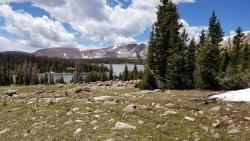 Tiny bugs, this was only a few of what was on my pack at this moment. Gnats?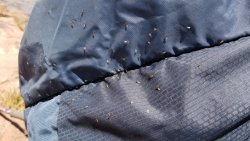 Five Point Lake (I think)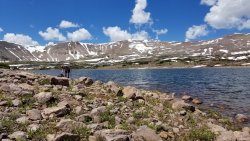 Our high camp with nice open views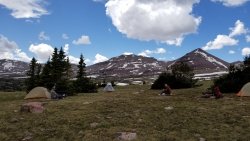 Playing cards at camp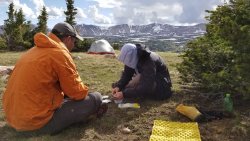 We had all sorts of crazy colors this night

Awesome waterfalls in the distance. That might be Powell Peak?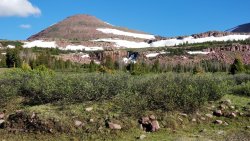 Kings and the south side of Andersen Pass/Highline trail (don't quote me on that)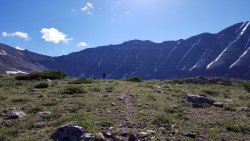 Short snow field, I brought microspikes , but never used them. A wasted extra 12 oz!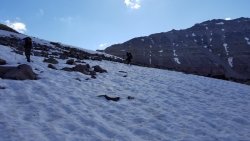 Kings from Andersen Pass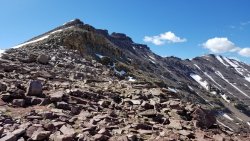 Summit!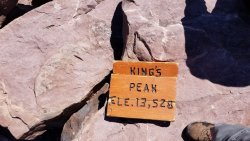 Dave on South Kings (tiny...from far away)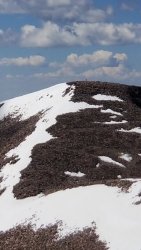 Looking back at our route