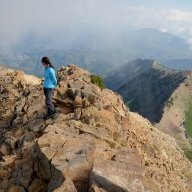 Joined

Oct 5, 2014
Messages

38
Hi there, it is that time of the year where my feet are itchy to move from being bound into ski boots/bindings and move more to my hiking shoes. So, planning some summer adventures is a pastime of mine at the moment.

My questions is "what are the typical conditions for summiting Kings Peak in mid July?". I know there is the risk of thunderstorms but in a typical year is the snow generally gone by then? I assume that the flying assassins (mosquitos) will be in full force at that time from previous Uintas experiences.

We may have a few days free at that time so I am thinking of doing a bit of a loop involving Red Castle if time and conditions allow. I will have to hunt out the trip reports on this I have read previously but any tips/hints would be appreciated.