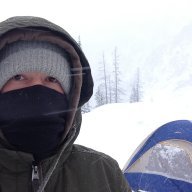 Joined

Sep 12, 2014
Messages

1,873
This was a short trip that did not go quite as i would have liked. I started it after exiting the Skyline Trail, and stopping by the town of Jasper. I had two nights to see Tonquin Valley, with Amethyst Lake, and the Ramparts above. How ever, it rained all of the middle day that i intended to spend seeing the area, never heavily, but rather continuously. I only left my tent twice that day, to get food, and to piss. The third day it let up, i hiked to see what i wanted to see, just over ten miles from the trail head, and then went back and packed up camp, and hiked out.
Click here to view on CalTopo
I camped both nights at the Portal camp site, at the marker.
I got started late. It's evening as i start out on the trail, but i don't have far to go, just over four and a half miles.. Portal Creek.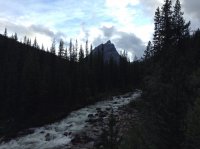 View along the trail.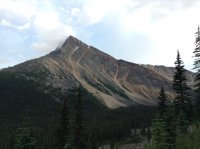 Looking back out the valley. The left end of the distant ridge is Mount Tekarra, which i had stood on top of the day before.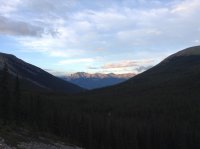 Looking up canyon. I admired the contrasting rock colors on the trail.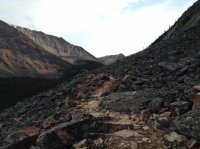 A better view up canyon, Oldhorn Mountain coming into view.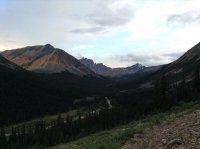 Looking across the valley.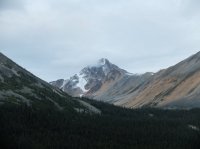 Camp for the night, Oldhorn above me.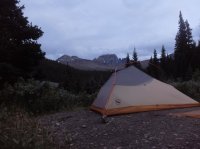 The next day, rainy.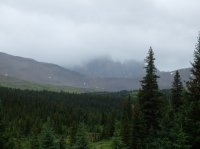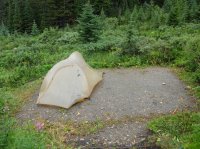 The third day, sunny. I ate breakfast, and went to get some pictures of the Ramparts.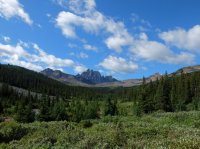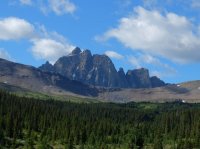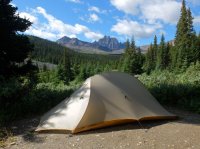 The trail here might have been the most horse mucked i've ever seen.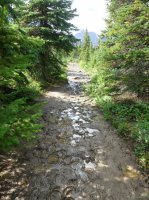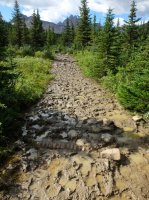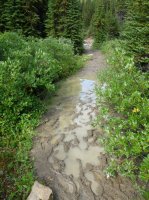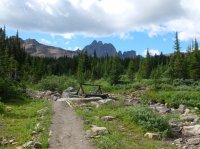 Nearing Maccarib Pass.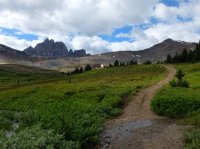 Looking back out The Portal.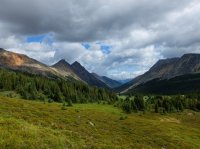 From Maccarib Pass, East, Edith Cavell the distant peak.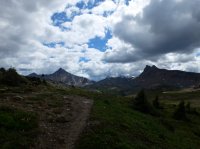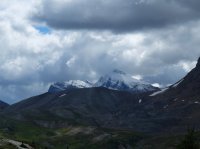 Looking West from the pass, the Ramparts coming into view.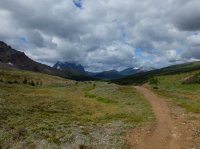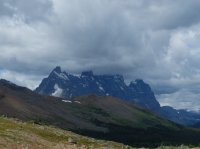 I left the trail here attempting to cross up to an earlier view of the Ramparts from a shoulder. A lot of rock walking, i should have stuck with the trail longer and then ascended.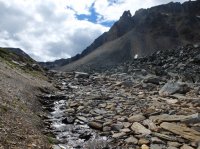 Mount Clitheroe.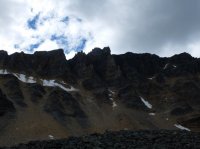 Looking back at Maccarib Pass.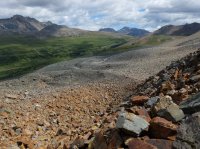 The slopes of Clitheroe again.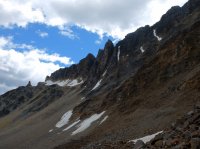 The Trident Range.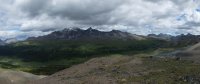 Looking out beyond Maccarib Creek. West.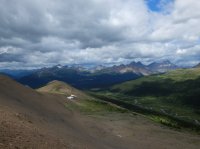 The Ramparts and Amethyst Lake. Wish i'd had more time.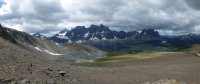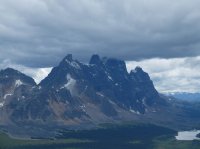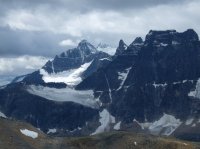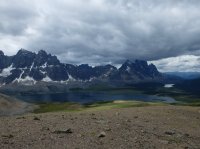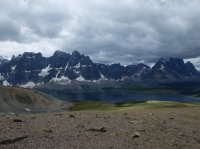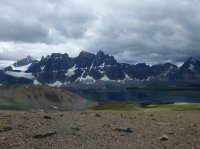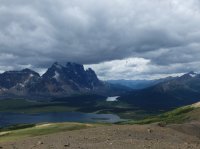 I started heading back down to the trail on the other side of Maccarib Creek.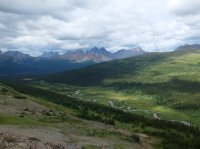 Looking back up at Mount Clitheroe from the creek.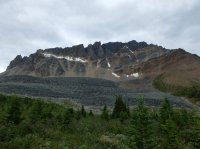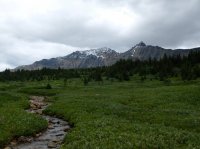 Edith Cavell over the shoulder of Clitheroe.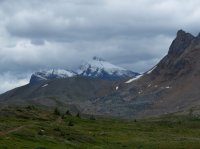 Near the pass.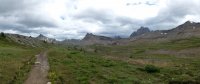 I packed up quickly, and hustled back out to the trail head. A water fall along the way.