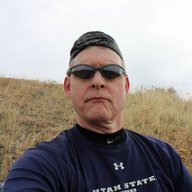 Joined

Dec 23, 2013
Messages

3,158
cool article and discussion, thanks

@scatman

makes me think of the "mystery" of where the Nez Perce (another bunch of tough hombres) went on their way out of Yellowstone. There has been some controversy in the historical record about the exit from the Lamar to Clark's Fork. This article has some good discussion about how the record has been difficult to untangle.

Lang, W. L. (1990). Where did the Nez Perces go in Yellowstone in 1877?. Montana: The Magazine Of Western History, 40(1), 14-29.
Interesting read
@scoags
. Thanks for sharing the link.
If this sign is still there, it is located just off Nez Perce Creek at the end of the meadow where you first begin to climb up to Mary Mountain
Back in 2016, I had planned a ten day, mostly off-trail, trip over the Mirror Plateau to Mist Creek, drop down and then bushwhack up the Lamar to Hoodoo Basin and then out. Unfortunately, my left knee didn't want to go the full ten days, so at the point we were supposed to head up the upper Lamar, we went down river instead.
My knee just didn't work after the day that we went over Lovely Pass.
I think we should get a BCP group together and do a trip that follows the Nez Perce through the Park and into the North Absaroka Wilderness, and out Crandall Creek. Who's in?