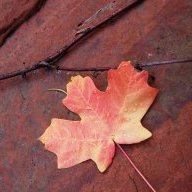 Life really is better Here
.
Joined

Apr 20, 2013
Messages

1,278
After a few years of miscellaneous cancellations and changes of plans, my brother in law and I finally made it out for the weekend. I wanted to head south, and since he is a pilot, we thought it fitting to start from an airstrip. Besides the drive took us to places new to him.
The sky was infinitely blue; the temperature was not bad. Not too hot for the in or out, warm enough to take a dip in a beaver pond when the sun was shining, and then as soon as the sun disappeared it felt instantly like fall. The full moon meant less stars, but brought beautiful silver light that I did not even attempt to capture, instead it was just enjoyed, as I reset for my brother in law what it really was like growing up with me. Ha!
Disclaimer is that I like the color orange.
First the drive.... and then the Boulder Mountain Aspens provided a great beginning.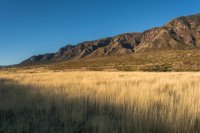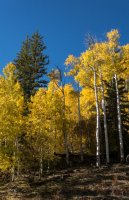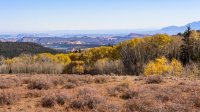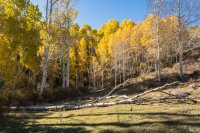 Once the drive was over, the hiking began in earnest.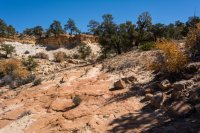 We ate up the miles, down Sand Creek, then up the other side. Any slog eaten up by conversation and changing landscape.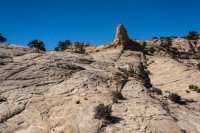 Then late in the afternoon, the destination.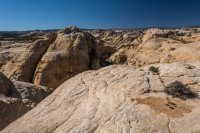 Always So Fantastic!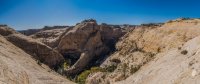 Last bit of sun lighting up the Autumn Beauty.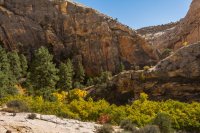 We camped at a popular spot. Beaver dam pond with little trout leaping full out of the water. Bats reeling overhead at twilight and occasionally skimming the creek. White powder sand beach. Even the ivy was beautiful.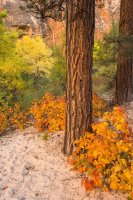 We wandered on up to where the trail climbs back up out. Greeted by beautiful sights.
Moon as the sun rose.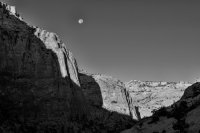 Geological details.
Even the sandy slogs over the plateau of pinyon, juniper, sage and rabbitbrush were beautiful.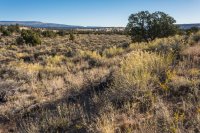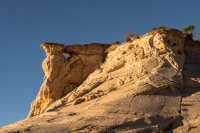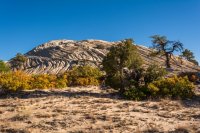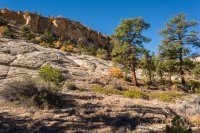 Sand Creek. One of my favorite shots.... orange.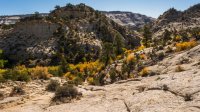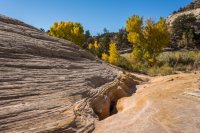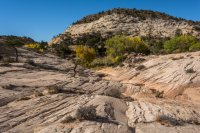 From Highway 12 we contemplated hiking up Calf Creek, not only was it packed, but we were shorter on time than we wanted...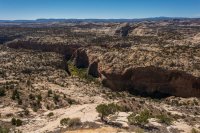 So we went to another place instead and wandered for a while.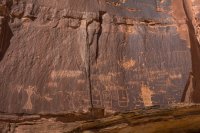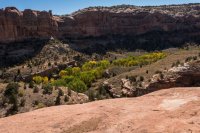 Back in the direction we came from.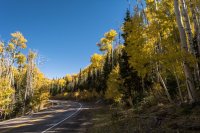 Along Teasdale Road, and a fitting farewell.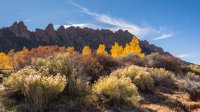 Last edited: