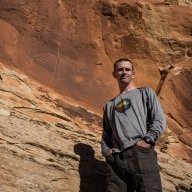 Wildness is a necessity- John Muir
Joined

Jan 4, 2014
Messages

1,099
After summering in the Bighorn Mountains, I am now in the Moab area for a couple months at the least. If you are visiting Dead Horse Point soon, you may spot me working.
Anyhoo, I felt I'd share some pictures of some initial wanderings around the area.
11/2/2015
What I thought was going to be a first day on the job turned into a "go explore" day. I decided to keep things short and simple and did the Portal Overlook trail just outside Moab.
For those who have never done it, the trail starts out flat and nice.
And then climbs up some ledges to an overlook of the valley. Not a bad view for not very much effort. The mountain bike tracks I saw on the trail made me wonder how badly I'd wet my pants if I were into that sort of thing...
Looking at the valley, my vote was that I was early for fall colors still...
11/09/2015
Thinking I was early for fall colors the week before, I started my days off with a hike in a spot that looked like it would have good colors. Most of the Cottonwoods appeared to have lost their yellow leaves to a storm over the week, but, there were still a few changing trees and it turned into a nice stroll up the canyon.
Freezing temps lately yielded this cool little find: a frosty anthill and moss!
The imprint of a leaf in a riffle of the sand
This trip truly was about the details. I thought my grand shots were fairly meh.
A silly juniper growing out of rock
The Marrimac
Towards the end of the wandering I ran into this oddity. It looked like a cache of rusting out junk behind a newish grill grate. There wasn't really much stopping me from removing the grate and disturbing the rusting junk, other than a repulsion towards handling junk.
On my way back down canyon, I spent some time on the slickrock rim, looking for more cool details.
One of those details was this little Pinon Pine, inn'it cute, framing the Monitor with the rock? Aww.
And this dead...juniper I'm betting. It made an S
After going into town and buying groceries, I decided I'd try the sunset game. I'm bad at seeking sunsets, I more often than not stumble into good sunset moments. But this time I set out for The Knoll, the highest point on the mesa of Dead Horse Pt and Island in the Sky. For a high point, it's not very grand.
But the view from the top was pretty nice. I played around a lot, trying to capture the moment and be artsy while the sun made its exit from the day.