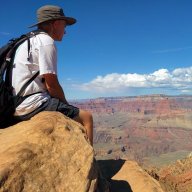 Joined

Dec 2, 2019
Messages

107
After the magnificent hike through Dark Canyon, and the desert traverse to Hite on Lake Powell, I hadn't really been looking forward to the next day of my trip, since it involved an early morning 7 mile road-walk along Highway 95. In order to reach the far side of the lake, and proceed on my intended route, I needed to cross the road bridges across the Colorado and Dirt Devil rivers. (In this area, the Hayduke Trail heads north towards the Red Benches, and then west across the Henry Mountains).

It is startling now to see what was once the north end of Lake Powell. The lake has receded several miles south, due to the ongoing drought conditions in the region. What a few years ago would have been a bright blue expanse of sparkling water here, is now mainly a muddy, scrubby plain, with the Colorado River running across it. (I've attached a couple of satellite images of this area from 2017 and 2022, to illustrate how the lake level has changed recently. My attached hiking map appears to show the route following the middle of the lake !). This spring, the lake levels were some 185 feet below the high water mark ! Although the initial creation and ongoing existence of the dam and lake have been controversial since Glen Canyon was flooded and the structures were built in the 1960s, there is no doubt that the dramatic fall in the level of the lake is currently having a significant impact on tourism, boating, and associated leisure activities, which in turn affects the local communities in the area.

Despite my trepidation, in actual fact, I rather enjoyed the walk along Highway 95. It is a road I have driven many times, but hadn't really taken in just how pretty the surrounding area is. Also, on 3 different occasions cars stopped along the highway to ask if I needed water, or to check I was doing ok, which was really appreciated.

Given the low lake levels, I hoped to be able to hike alongside the river as much as possible, and this worked out well. The underfoot terrain was variable, ranging from soft white sand, to crumbly baked mud, but it was all quite manageable, and I made good progress. It was remarkable to think that in places I was possibly walking along a stretch of beach that had been underwater for almost 60 years ! In only one place was I forced up onto a higher bench to be able to continue on my route.
(Day 11 14.8 miles, Total 150.3)​
=====
Jamal Green has documented his route from the edge of Lake Powell towards the Little Rockies Wilderness Study Area, using Swett Canyon to link the areas. I hoped to be able to make further progress westwards alongside the river, beyond this canyon, due to the current lower water levels. I easily made it to the mouth of Twomile Canyon, which I could have used to access the Little Rockies area, but I decided to continue on towards Fourmile Canyon. Although I eventually made it into the canyon, the route alongside the Colorado River became more and more muddy the further I hiked. It was a pretty miserable experience, especially the first quarter mile of the canyon itself, where I had to negotiate a way around some huge boulders, while trying not to get sucked into the soft mud in the drainage. I finally made onto some dry, firm ground by finally scrambling up a loose and potentially dangerous boulder slope. There was at least a nice spring close by to get some water. This was an utterly exhausting afternoon.
(Day 12 12 miles, Total 162.3)
​
=====
The first part of the hike up Fourmile Canyon was very picturesque with a pretty lake, and a lovely stream lined with cottonwood trees. Further on there have been some large rockfalls, with huge house-sized boulders blocking the drainage. This requires some scrambling up the nearby steep slopes in order to rejoin the canyon further up. There are a couple of nice groups of rock hoodoos close by a fork in the canyon, and some nice desert varnish on the steep walls. However, as the day progressed, hiking through the narrow, rocky drainage became rather tedious, and I craved some views of the surrounding area, especially as I was getting glimpses of Mount Holmes and Mount Ellsworth in the Little Rockies. I was able to scramble out of the canyon further on, and decided to proceed using the higher benches. Although the views were great, onward progress was painfully slow, due to the rough terrain, and having to negotiate a route around many shallow but long side drainages. Even Michael Kelsey describes this area as 'rugged'
. Eventually, I decided that I could only make reasonable progress by returning to the drainage of Fourmile Canyon itself. It wasn't the most interesting of hikes, but it was definitely the best way of traversing this area.
(Day 13 13.4 miles, Total 175.7)
​
=====
The next morning I proceeded further along Fourmile Canyon and crossed over the high saddle under Fred's Ridge, before reaching Highway 276 by mid-morning. After my frustrated attempts to negotiate the terrain in this area the previous day, I decided that an 8 mile road-walk was preferable to taking on any kind of cross-country route. Three hours later I was at Ticaboo Lodge, where I was able to collect my next resupply package. The manager and staff at the lodge are incredibly kind and helpful, and were delighted (and relieved) that I had made it back there to collect my box. This was my first opportunity in 2 weeks to buy some food, so I spent a very enjoyable 2 hours on the lobby sofa at Ticaboo munching on numerous sandwiches, muffins, and cookies.

In the lobby of the hotel there is a huge geological map of the Colorado Plateau, and it was fun to trace my route so far with my finger, across this part of Utah. As I studied the map, I was able to imagine the canyons, mesas, and assorted features that lay ahead of me. I couldn't help but spend a few minutes looking closely at the short tricky section of my route that had been preying in mind so much since the start. How difficult could 'Miracle Mile' be really ? I was only one week from finding out.
The lodge staff told me that there was another store just 2 miles along the road, which had an adjoining restaurant. I sped along the road and got there just before closing, and was able to enjoy a delicious burger and fries. I needed those calories ! The only problem I had now was the ferocious wind blowing, and there was no way I would be able to pitch my tent in an open area that evening. I wasn't quite sure what to do, but eventually just bedded down around the back of one of the boatyard buildings, which was fairly well sheltered.
(Day 14 15.4 miles, Total 191.1)
​
=====

The next day involved another long road-walk but I was feeling energized this morning, and the time flew by. After a steep final climb along the Burr Trail Road, I was finally able to get off the pavement, and head cross-country once more. I was now heading across the undulating terrain of Hall Mesa, in the direction of Waterpocket Fold. I was glad to have some GPS route locations to follow, as I progressed, because the spot on the ridge where one starts the descent into Halls Valley (aka Grand Gulch) is not immediately obvious. However, the views from this ridge of the long valley below, and of Waterpocket Fold were magnificent. The sight of Halls Creek and surrounding cottonwoods, with the gently undulating pink and white sandstone mounds of the Fold behind was glorious in the early evening light. The steep route down from the ridge is quite sketchy, with one place where I had to lower my back-pack over a precipitous ledge. The descent wasn't a whole lot of fun, but eventually I scrambled down to solid ground.
(Day 15 20 miles, Total 211.1)​
=====

I was very keen to reach Halls Valley the previous day, in order to give me sufficient time to take a half-day to head a few miles north to explore the famous Halls Creek Narrows. I decided to save some time later in the day by packing my rucksack before I set off on my day-hike. Although it was a beautiful, calm morning, I thought I would place my pack under the flysheet of my tent, just in case there was some rain later in the morning. Good plan ! It was a beautiful walk along the valley, and I really enjoyed splashing through the creek that runs between the steep walls that form the Narrows. It is a stunning area, and I wish I could have spent longer there.

Just as I was about to head back to camp from Halls Creek Narrows, I felt a strong breeze of wind, and I suddenly stopped dead in my tracks. I realized immediately that I had left my tent sitting in a wide open valley, completely unmoored (the ground was too hard for the stakes), and with literally nothing inside to weigh it down (my pack was outside the inner tent, under the flysheet). If there was any kind of wind, there was every chance that the tent would just float away on the breeze. Oh my goodness, what an idiot I'd been leaving my tent like that. Not such a good plan, after all !

As I jogged back to my campsite, the wind was getting stronger and stronger. I knew that the tent would be gone, it was just a matter of where it had blown to. I was seriously thinking about if it was feasible to continue my hike, without a tent. Could I sleep in caves or alcoves every night, for the next 2 weeks ? !! As expected, the tent had indeed blown away, and I returned to the sight of my lonely pack sitting where I had left it. I looked round at the huge surrounding valley, and realized that the tent could be literally anywhere, given the strength of the wind.

This was looking bad. I had lost my tent !

=====

The other parts of the adventure can be found here:
​
Despite the many frustrations of the Covid restrictions of 2020 and 2021, I had plenty of time to pore over maps, blogs, and guide-books and plan a big hike on the Colorado Plateau for Spring 2022. My previous long-distance hike in the US South-West in 2019 was a fantastic experience and I...
I was unsure whether to spend another day in Fable Valley to look for archaeological sites, but decided it was worth staying on a bit longer, if only to dry out my still wet clothes from the previous day. I hiked almost to the end of the canyon, which was a beautiful walk, but I didn't find any...
.
.
Update and warning December 2022: @IntrepidXJ Randy Langstraat reports in October 2022 that the narrow rock chute leading from Hole-in-the-Rock trailhead, down to the shore of Lake Powell, may now be impassable. It was certainly a much trickier descent than I had envisaged, in April 2022, but...
I had now been camped at the beach below the Hole-in-the-Rock for almost 48 hours. It did appear that my plan to hike almost 300 miles from Needles to Lake Powell and catch a ride across the lake to Cottonwood Canyon and Grey Mesa had ended in failure. Not a single boat had passed by during the...
Although I had been carrying plenty of water, I hoped that I'd be able to refill my bottles at Lake Canyon. The dirt road from the highway out to Aladdins Lamp Pass used to skirt the edge of the canyon, but it has now completely collapsed and 4WD drivers now need to take a detour further south...
=====
.
.


.
.
.
.
North Lake Powell 2017 and 2022 water level comparison
.......
.
.
My route along the middle of Lake Powell !
.
.
Heading along Highway 95
.
.
The road to (closed!) Hite Outpost that I had taken the previous evening to retrieve my resupply package
.
.
Heading along Highway 95, approaching the bridge to cross the Colorado River
.
.
The Colorado River, with the Henry Mountains in the distance
.
.
Heading along Highway 95
.
.
The muddy, scrubby expanse of what was once north Lake Powell
.
.
Debris from the bottom of the lake !
.
.
Previously, this section would have been impassable due to higher lake levels; now it's a white sand beach
.
.
Looking north along the Colorado River, from an upper bench
.
.
Looking south along the Colorado River, from an upper bench
.
.
Lake Powell hoodoo
.
.
Pelicans (?)
.
.
Baked, crumbly mud formed as the water levels drop
.
.
Fourmile Canyon
.
.
Fourmile Canyon
.
.
Mount Holmes in the Little Rockies Wilderness Study Area
.
.
Hoodoos in Fourmile Canyon
.
.
Petrified Wood
.
.
Mount Holmes
.
.
The saddle below Fred's Ridge
.
.
Mount Ellsworth
.
.
Mount Ellsworth
.
.
Ticaboo Lodge
.
.
Heading towards the Burr Trail
.
.
Waterpocket Fold above Halls Valley (aka Grand Gulch) from Hall Mesa
.
.
Halls Valley (aka Grand Gulch) from Hall Mesa
.
.
A secure (!) tent beneath Waterpocket Fold
.
.
Waterpocket Fold
.
.
Desert varnish in Halls Creek Narrows
.
.
Halls Creek Narrows
.......
.
.
"I would walk 500 miles,
And I would walk 500 more,
Just to be the man who walked a thousand
miles to fall down at your door" ... The Proclaimers
Last edited: