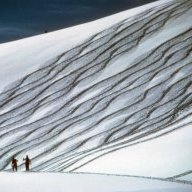 Joined

Oct 17, 2012
Messages

367
UT/AZ Line....I've been in this area a half dozen times over the years. Some of the things we've done: the mandatory Wave hike, a couple of visits to White Pocket, trips to Paw Hole and Cottonwood Cove, Wire Pass, Buckskin, the full Paria hike to Lee's Ferry and partial exploration of the AZ trail. This year I had a pretty good list of things that were nearby, places that needed to be seen. We figured the Stateline CG would be a good base for the 1/2 dozen day hikes I had planned.
First things first. We need to find a camping spot at the BLM, Stateline CG, or... it's on to plan II. 6- 1/2 hours drive from Fruita CO gets us in about 2 PM.
Woohoo!! 4 out of the 8 sites are vacant.
We're in!! This will be home for the next 6 or 7 nights. Virtually just on the other side of the ridge from the Wave. "Set up camp kids!" This ain't no backpack camp. A nice comfy car camp setup. Kinda the way I like it these days, especially if we're staying put and just doing day hikes. 2 couples from Steamboat Spgs and a buddy from Santa Fe NM. God... it's nice to be out of the endless white of the mountains and have predominantly red rocks ruling the view!! And...even better ....back wearing shorts again.
Our first morning and it's a nice cool sunny day. Perfect for hiking up Wahweap Creek for some hoodoos and toad stools.
The first look of many...
Is this place awesome or what??
What a cool place. Who would ever believe?
I kept thinking this is one wide ass creek. Takes a lot of water to create a fat wash like this. Can't imagine how much water runs thru this place when it's really going. Glad it was a cool day to hike. Exposure to the sun is endless. Good first day. Back to camp. Great dinner, fire and cocktails,wine, stars, company...
Next day. So...after doing a hike in Upper Buckskin a few years ago, I noticed an ungodly amount of slick rock that needed exploring. I'd been wanting to see this crazy looking area in my dreams. This was finally the day. West Clark Bench (AKA Edmair's Secret). 5-6 mile drive north of camp and we're off.
This is going to be good.
Lacy rock, brain rock, striped rock. Rock heaven!
Nice lunch spot out of the wind
I love this place! Huge views and endless rock.
UH OH!!!! I dropped my camera. And...not on the sand. Bummer!! My Canon point and shoot is toast. Wah!! Looks like the rest of this trip will be shot on a smart phone. Good thing we have plenty of beer and rum back at camp. I'm going to need a few good stiff ones.
To be continued.......