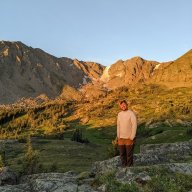 Joined

Mar 25, 2023
Messages

15
While traveling through southern Utah, I had the Henry Mountains marked off on my Google maps as a "want to go" location. I had read about the mountain range in a Backcountry Journal issue, and I wanted to explore the area. I read it was known for it's mule deer, as well as being one of the very last places to be explored in the lower 48. Everyone goes to southern Utah for the big 5 national parks, rightfully so, but who doesn't love some adventure off the beaten path.
I found info on a BLM front country campground, and headed out with intentions of hiking in the morning.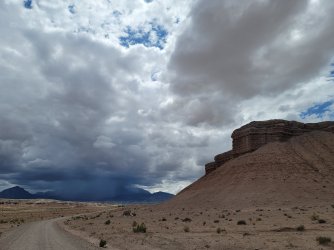 The road leading into the Henry's. It was as if we were driving into the lair of a super villain of sorts. Truly beautiful seeing the mountains create their own weather in the middle of the desert.
After a wild, legitimately scary ride up the access road, through a torrential downpour, we made it to Lonesome Beaver Campground. One thing of note, if anyone has any intentions of getting here, a compact car will not get the job done.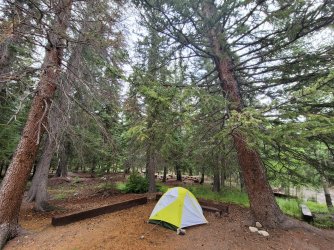 We were the only people here all night. Camping was free, and there was water, as well as a clean bathroom/pit toilet.
After a cup of Morning Thunder we got in the truck and headed to the trailhead, 10 minutes away.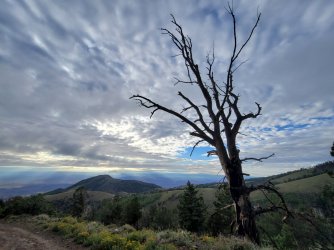 The road to the trailhead was steep, but not overly rutted.
Along the way, I was reminded why this range is a once in a lifetime mule deer draw.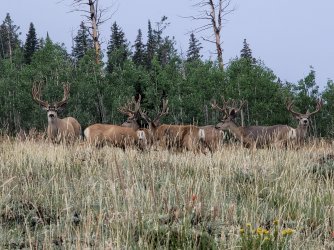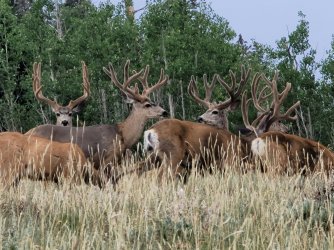 We were the only car at the trailhead(which can accommodate ~4 cars). When we reached the TH, we were pretty disappointed though. We were covered in clouds in every direction. I was debating whether it was worth the 6 mile hike, in hopes that the clouds would blow out or burn off. While mulling around, a big wind came through and gave us a glimpse of the hike, and we decided it was worth it.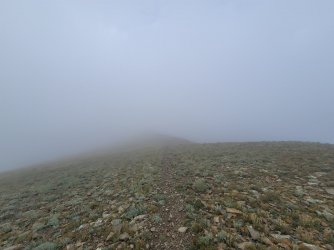 Socked in by clouds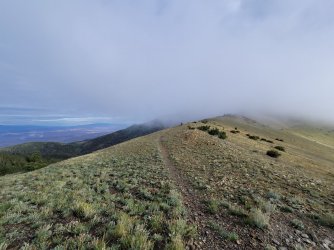 The preview, that gave us the motivation to proceed.
The hike is essentially a big long ridge, with some easy scrambles. I can only imagine what this is like in clear conditions.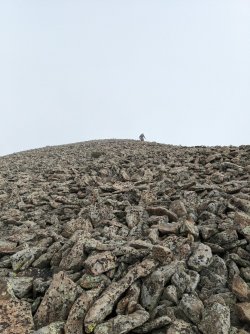 The first of many ups & downs just like this.
The elevation gain isn't exhausting. All told it's only about 2000 ft. The exhausting aspect is mental. Making sure not to twist an ankle when every rock is loose. Things are very slow going, especially for two flatlanders.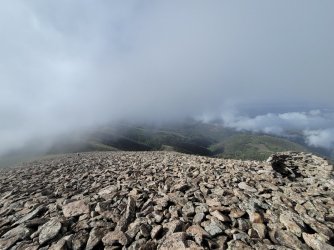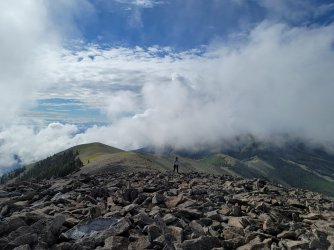 Breaks in the clouds gave us much appreciated visual relief from endless rocks and gray skies.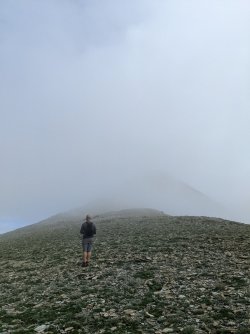 There is quite a bit of fun & mystery that come with hiking into a sort of abyss. Every new ridge seemed to be the end. Only to realize that there was another half mile. Then another half mile. Then another.
One fun little tidbit. While traveling over a saddle, we passed an area filled with what I thought was bison crap. But I quickly dismissed it for horse crap, because of course there are no bison here. It had to be a guide or something, out scouting on horseback. Fast forward to when I got cell phone service again, I Googled "large mammals in the Henry Mountains", lo and behold, the Henry's have an isolated population of bison! In fact, it's said to be one of the most genetically pure herds left in America. Unfortunately I didn't think to take a picture of the poop, but I laugh at the idea of walking through the clouds and seeing a bison standing on the mountain. I would have thought I was tripping out.
We confirmed on the map that the final climb was the biggest hill yet, which was the next one in front of us. It was a series of quick, steep switchbacks, that took a little bit of searching to find. But as we got to the summit, almost as an act of divine intervention, the clouds dissipated, and we had sweeping views of the Henry's & southern Utah desert alike.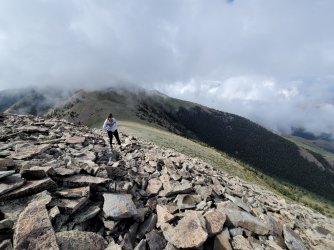 The final ascent to the summit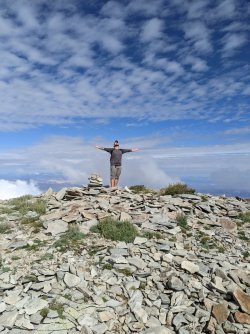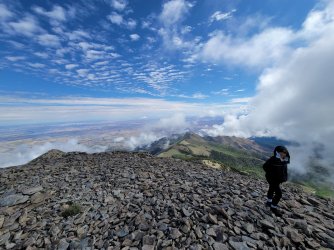 Two happy folks.
After being afforded some time at the top with views, the clouds came back to usher us away and back to the trailhead.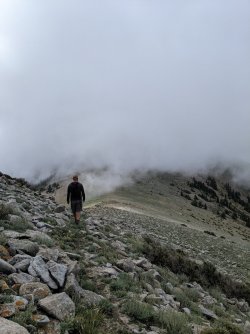 About 1.5 miles from the TH, the thunder started. Then the hail. By far my biggest fear on any hike is lightning. And this was nothing but exposed ridges with little to no trees. So instead of climbing down the valley, we made the decision to beat feet and make double time back to the car, at the risk of slipping on the now wet rocks. These decisions are always tough for me when it comes to thunderstorms. Had we been further from the TH, I probably would have climbed down below treeline. It wasn't yet the afternoon, but the storm blew in anyway. Just bad luck.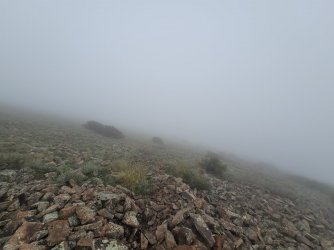 Unfortunate weather on the way back.
Either way, we got back safely, and we can say this was the most memorable hike we had in Utah. A hike we were ready to bail on, had a wind not given us a preview a few hours earlier.
We also got to see the same herd of mule deer bucks on the drive out. They were no more than 50 yards from where we had left them.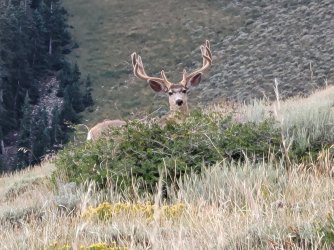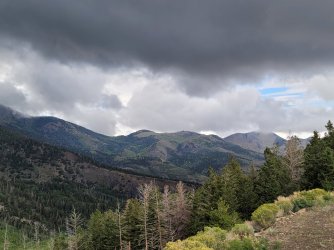 Mount Ellen in the far distance on the right hand side.
The Henry's were rugged, wild and desolate. The night prior, a large group of friendly people in dune buggies drove by. Besides that, we did not see a single person in our two days here. I chose this as my first trip report(albeit 7 months old), because this was such a special place for my fiancé & I. I would love to explore this area in depth, and get to lay my eyes on some of those bison!
Last edited: