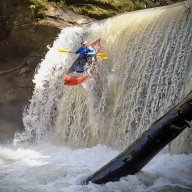 Joined

May 3, 2013
Messages

556
Tradition has ruled most of my 40 years when it comes to Thanksgiving. This year was different.
The weather last Thursday was in the 60's and sunny with a nice warm breeze, and the sunrises lately have been ridiculous. Throw in a full moon and I just had to go.
The day hikers were on their way out as I backpacked in, on their way home to feast as I was on my way to scenery and solitude. And I'm wearing shorts.
I hiked the 2 miles out to Auxier Ridge, one of the most crowded areas in a very crowded place but on this day is was deserted and the conditions were perfect. I set up camp near the cliff edge and busted out my backcountry version of Thanksgiving dinner. Cheez-Its may become part of a new tradition.
Evening on Auxier Ridge
I was hoping the water pockets on the ridge were still full, I expected the sunset and sunrise to add some nice reflections.
Sunset on the ridge
Taken around 9pm, all natural light from the full moon. 30 second shutter speed.
Still wearing shorts...
Early the next morning my tent lit up. I stepped out to this.
Auxier Ridge and Courthouse Rock
Haystack Rock and Double Arch across the valley
I hope everyone had a terrific holiday weekend.