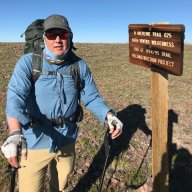 The mountains are calling and I must go
Joined

Mar 31, 2013
Messages

1,024
Having put seven plus miles of hiking with some moderately steep climbs I was beat. So the first thing I did was take off the pack and sit down and have some lunch.
Unfortunately, lunch wasn't a medium rare steak . . . it was two Clif Bars, which is the case everyday of backpacking.
One of my backpacking mentors, Jerry, taught me his backpacking menu and I've stuck with it with a few minor alterations. My backpacking menu consists of three instant oatmeals and one instant hot chocolate for breakfast, two Clif Bars for lunch and a dehydrated dinner. I add a few additional calories with Gatorade powder and licorice. The funny thing is, at home I could never get away with eating so little. At home it only takes thirty minutes and I'm wondering where the next meal is.
So after eating and setting up camp we did some exploring around Helen Lake.
See that green strip on the far side of the lake? Past that the landscape slopes down and you're at Lightning Lake. You've heard the phrase "a stone's throw"? Well, these two lakes are just about that close.
Helen Lake as the sun is setting
Once it got dark we had our one fire for the week. Usually we would sit around a fire every night, but the mountain air and the labor of hiking and exploring had me ready for bed by 9:00 PM every night.
Wednesday we awoke to sunshine and blue skies with puffy white clouds. The Uintas are known for afternoon showers and having done several backpacking trips through these mountains and never getting rained on I was actually hoping for some rain.
Wednesday was a rest day, meaning we wouldn't be moving camps today. Wednesday was all about exploring this section of the Rock Creek Drainage.
Roman and I headed over to Lightning Lake.
Here's Roman sitting on the cliffs at Lightning Lake.
After knocking around Lightning Lake we decided to go vertical.
Looking down at Helen Lake.
Roman at the top of our climb. Here you can see how close Lightning and Helen Lakes are.