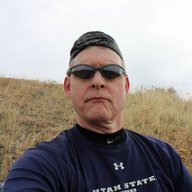 Joined

Dec 23, 2013
Messages

3,016
This is a backpacking trip I completed with a friend along the High Sierra Trail from Crescent Meadow to the Whitney Portal back in August of 2012. It was an eight day trip of approximately 70 miles from west to east. The trip could easily be done in six or seven days, but we had an extremely short day from Crabtree Meadow to Guitar Lake so that we could take our time and enjoy our surroundings for a day. Our campsites along the route were from west to east: Bearpaw Meadow, Big Arroyo, Moraine Lake, Junction Meadow, Crabtree Meadow, Guitar Lake, and Outpost Camp. The first mile or so we hiked through a Sequoia Grove and forest. Once we opened out into the Kaweah Canyon, we had incredible mountain scenery for the rest of our trip. I only took my Canon Powershot point-and-shoot camera with me on this trip, so the pictures leave a little to be desired, but I'll let them do the talking from this point on.
For you
@wsp_scott
Map - West Portion
Map - East Portion
Lodgepole Visitor Center - where we picked up our official permit
Touristy shot near our trailhead. Man, I look young. What the hell happened
@Bob
?
Mileage marker at trailhead - doesn't include additional mileage for Moraine Lake and the descent to the Whitney Portal.
My backpacking partner and a couple of Sequoias
Popping out above Kaweah Canyon, looking back at Moro Rock
The High Sierras ahead
Beautiful granite
Ranger station at Bearpaw Meadow. We camped on our first night just down the trail from here
Morning shot back down the canyon on day two
View along the High Sierra Trail
Morning shadow along the granite
Looking back at the trail crossing a granite face
Almost too much to take in at this point
Falls along Hamilton Creek
Spectacular
Part of Valhalla
Looking down on the first of the Hamilton Lakes
Short tunnel along the trail
More Valhalla
Second of the Hamilton Lakes
Granite cliffs along Precipice Lake
Looking up towards Kaweah Gap
Looking from Kaweah Gap down the Big Arroyo Drainage
One of the lakes in Nine Lake Basin
Stunning views heading down the drainage towards night two's campsite
It's beginning to get long in the day
Cabin at Big Arroyo. We camped just down the trail from here
Day three and the amazing scenery never stops
Starting to hike up from the Big Arroyo Drainage
High mountain scenery
Looking down the Big Arroyo Drainage towards the Kern River Canyon
Some pretty meadows along our route too.
Moraine Lake, our third night's campsite
More meadows to begin day four
Starting our descent down into Kern River Canyon
Kern Canyon
The Kern River in 2012 - could rock hop across
The Kern River in 2017 on my TST trip - over your head deep and raging
Making our way up the Kern Canyon
Of course I had to stop and take a soak at the Kern Hot Spring - There is a cement tub that you can fill with hot water in the wooden enclosure behind me.
More Kern Canyon hiking on our way to night four's campsite at Junction Meadow
View in the morning for day five
Looking down the Kern Canyon on our way to intersect with the JMT
Up above Wallace Creek - looking west
Heading towards Crabtree Meadow
Looking back to the west along the JMT
View from Crabtree Meadow where we camped for our fifth night
First view of Mount Whitney in the evening from upper Crabtree Meadow
Morning of day six. Hiking up Whitney Creek towards Guitar Lake
Mount Whitney
Guitar Lake - our sixth night campsite
Morning of day seven. I awoke at 2:30 am in order to see the sunrise from the top of Mount Whitney. It was a blue moon so I could hike up the trail in the moonlight. I could see from Trail Crest, all the people hiking up the east side of the Whitney Portal, with their steady stream of headlamps. Only 1.9 miles to go!
The shack on top of Mount Whitney, which I have to myself for the time being
The Scat hand on top of Mount Whitney
Sunrise on Mount Whitney. Waiting for this to happen I was the coldest I have ever been in my life. The wind was blowing really hard.
Blue moon setting to the west
A look down the Whitney Portal towards Lone Pine and Owens Valley
Absolutely Freezing!

Or as I like to say, "Cold Scat!"
View to the south
View to the west from Mount Whitney
Looking down on Murdock Lakes and Guitar Lake, where we camped the night before
Looking south along the ridge towards Trail Crest
Impressive indeed
Heading down towards Outpost Camp
Making our way to night seven's campsite at Outpost Camp
View in the morning of day eight
Heading down the Whitney Portal
View down the portal towards Owens Valley
View back up the canyon
My pack weighed 46 pounds at trail's end.
Bacon cheese burger and fries at the Whitney Portal Store!
And of course I had to take a trip down to Death Valley and Badwater Basin before heading home.
Last edited: