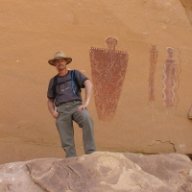 Joined

Jun 14, 2012
Messages

715
Late the afternoon of Wed. July 17th I picked up my old friend Tim on the way out of town. Our destination, the Henry Mountains. But due to the late start, we wouldn't make the Henries before dark, so set our sights on a spot near Goblin Valley that we call Hippy Camp. Tim and I have been running around together doing this kind of stuff for over 30 years now. Hippy Camp got its name about 20 years ago, the second or third time we rolled in there to crash for the night. That night, we rolled up to find half a dozen hippies encamped there, complete with a huge bonfire and a Microbus. All obviously stoned out of their minds – on something more potent than weed... We bailed and found somewhere else to crash that night. Next time we used the camp, a year or two later, we found all kinds of spirals and peace signs and weird symbols laid out with small stones all over the area.
Anyway… Hippy Camp is only a few hundred yards east off the road to Goblin Valley, but out of sight of the road and well protected from prevailing winds. Interestingly, I found a couple trippy spiral designs that looked fairly recent on this visit, so apparently the hippies still use it too after all these years. But other than the one time it earned its name, we've never run into anyone else there in the times we've used it over the past 20 years. It's a great spot to pull off and crash while coming and going through the area. And so, that is where we threw out our cots and sleeping bags in the moonless dark night to catch some Z's.
Thursday morning I was up well before daylight, stashing my sleeping bag and cot in the Jeep while boiling water for coffee. I sipped that first cup in silence, marveling at the inky blackness of the pre-dawn following a moonless night. Noting the occasional "woosh" of a bat or night bird flitting around my head, too dark to tell what it was. By the time I had a second cup brewed and the stub of the previous nights cigar lit, the first hints of light were starting to show in the direction of Robbers Roost and The Maze. I gave Tim's cot a shake with my foot and told him it was time to roll. He was up and had his gear stowed in no time and we were gassing up in Hanksville when the sun first appeared on the horizon.
After fueling, we took a left at the Post Office and rolled south on the Sawmill Basin road, up past Bull Mountain, to Lonesome Beaver campground where we stopped just long enough for me to pull out the JetBoil and whip up another cup of Italian Roast, which I laced liberally with Baileys before lighting a fresh cigar with which to face the fresh day. Lonesome Beaver was indeed lonesome – totally deserted, and not of interest to us anyway, so onward and upward we went. Leaving the Hellish heat of the July desert behind and relishing the coolness of the fresh, crisp, pine scented mountain air.
We had no plans for the next four days. We wanted to see some deer, I wanted to try and get some decent pictures of them, we thought it might be cool to wash a few gold pans of gravel out of Crescent creek just for old times sake. But basically, we were just there to see what we could see and no particular itinerary for where to go each day or plans for where we should end up each night. Free to wander, just like the old days when the world was young and we had no more responsibility than a pair of hoboes.
More...
Featured image for home page: