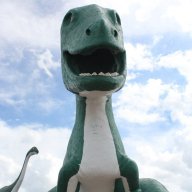 Joined

Oct 27, 2013
Messages

182
I'm heading out to the GSENM again in a few weeks, but I'm having trouble deciding on hikes and need some recommendations. My problem is too many options, rather than lack of ideas- I have flags all over my copy of Canyoneering 3! I've hiked many of the well-known destinations off the Hole in the Rock Road, so I'm going to focus on the Burr Trail area this time.

I have 6 full days of hiking, all solo. I usually do day hikes, but this time I'm going to try backpacking. I'm definitely going to hike the Little Death Hollow-Wolverine Loop. What else should I see from here to add on additional days? Bonus points for being able to set up a basecamp and do dayhikes from it. I also want to spend some time up on the slickrock, not just in the canyons. One idea is to head down to the Escalante and over to the Spencer Canyon fracture network, but I could also do that as dayhike from the OSR.

Another option is to do a series of 1 night trips and/or day hikes, moving to different trailheads in between. I'm intrigued by Allen's hike #31 "Steep Creek and Hot Canyon." He claims it "leads to one of the finest and least-visited sections of Canyons in the Escalante," but getting there takes several hours of bush bashing through cowed-up areas. Has anybody done this loop and think it's worth it? I hiked Davis a few years ago and thought fighting through that heavy vegetation was miserable. How about his Egg Canyon (#34) and Deer Point (#36) hikes? Are the roads to those going to be accessible in a rental small SUV? Or are there better places to see in the area?