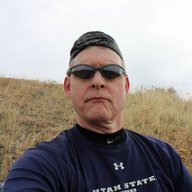 Joined

Dec 23, 2013
Messages

3,551
Since I've been stuck in my house for the past month, I started thinking about all of my grizzly bear encounters over the years while driving, hiking or backpacking in the GYE.
I was twenty five when I first started to backpack. My parents weren't all that big on the outdoors, so I came by it kind of slowly over time. I graduated from college way back in 1987, and began working for USDA when I was 23.
My first trip to Yellowstone was the year I graduated from Utah State. I drove one of my friends home to Puyallup, Washington, located just outside of Seattle, and on my return trip from her house, I came down through Mammoth, then on to Old Faithful and out the Southern Entrance of the Park. I stopped along the way and did the touristy thing, stopping at the major thermal attractions and some roadside waterfalls. As I made my way south through the Park, I also saw four moose (the most I've ever seen while there), many bison, and some elk, but unfortunately no bears.
I then returned in 1989, a year after the major fires, with a friend to see a burnt landscape. Again, though we did stay at a campground, this was a tourist trip, and I got to see the Upper and Lower Falls on the Yellowstone, Hayden Valley. the Lake Hotel and such. Again, I was lucky enough to see two more moose, herds of bison in Hayden and elk near Grant Village, but alas, no bears.
Well, by 1990, I thought I'd accumulated most everything I'd need to plan a backpacking trip to Yellowstone, but I didn't actually make it up there to backpack until the summer of 1991. I did a trip into the Bob Marshall, and the Chinese Wall in 1990. So since 1991, I have returned every year, sometimes multiple times to backpack in Yellowstone or the broader GYE. I usually try to take my family on one trip a year, and the rest are with friends, or people who are crazy enough to want to hang out with me for a multi-day backpacking trip in bear country.
Well, it wasn't until 1998 that I saw my first grizzly bear in the backcountry. A friend of mine, and myself did a two week trip that came down the eastern shore of Yellowstone Lake, south into the Thorofare, and out along the Snake River and the South Boundary Trail to the South Entrance of the Park. On our last night in the backcountry, at campsite 8C1, while eating our dinner, we noticed something moving across the slope on the north side of the Snake River. As it got close enough to make out what it was, we realized it was a grizzly! Yippee!
I'd grown accustomed to not seeing any bears while in the Park over the previous 8 years, so my nights were pretty peaceful, but the night after seeing the bear, my mind raced when I was awake. Is it coming to check us out? Is our camp clean enough? What is that noise? Will Matt (my friend) wake up in time to save me from being pulled out of my sleeping bag by the bruin? Should I pretend to be snoring to let it know that we are here? You know how the mind works when you are unsure of things.
Well, I've learned a lot since that night back in 1998, and I can say honestly that I sleep pretty well now, even if I've seen a bear that day, or even if we've had one visit us at, or close to our campsite. As I've gotten older, a good nights sleep is more important to me than worrying about what is going on outside my tent, particularly if I have to get up and backpack the next day.
So I went eight years without seeing a grizzly (black bear too for that matter) while backpacking in the GYE. And I don't recall seeing more than one set of bear track in that time period either. Now it is true, that as I got older and more experienced, I tended to had into better grizzly bear habitat, so the chances of seeing a bear probably increased, but I do think the population of bears has increased over that timeframe also. When I plan A trip now, I almost expect to see a grizzly and am disappointed if I don't.
So a I head off this summer for my 30th year of backpacking in Yellowstone, or someplace nearby the Park, here are my numbers for grizzly encounters in the GYE over the past 29 years.
I've had a total of 27 encounters that included 33 grizzly bears, four of which were sows with cubs.
By Place:
Yellowstone National Park - 27
Grand Teton National Park - 2
The Teton Wilderness - 4
Washakie Wilderness - 0
The Gros Ventre Wilderness - 0
Where:
Roadside - 5
Backcountry - 28
Backcountry Breakdown:
Day Hikes - 5
Backpacking Trips - 23
Here is a shot from back in 2008 of a grizzly that I came upon while day hiking along the Howard Eaton Trail near Spring Creek, before heading off on a canoe trip on Yellowstone Lake. I was using a Canon Powershot SD700 IS.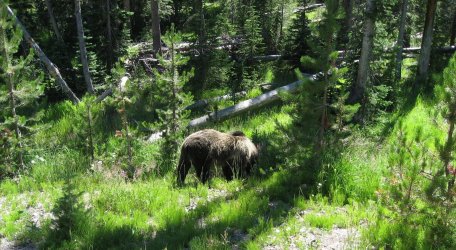 lucky to have my camera ready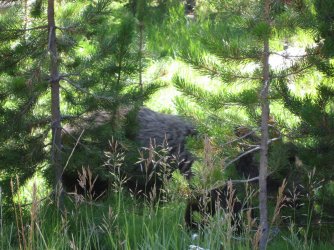 Zoomed in as it passed by me.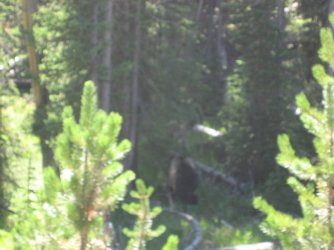 Not a very good picture, but it is heading up the slope from the creek and away from me.
Of course, if the bear is in the distance, you might have time to get your camera ready and get some pictures, but if the bear is relatively close, you really need to be lucky enough to have the camera in hand and ready to shoot. You have a lot of things to think about in a very short time interval, particularly getting your bear spray into position if the bear decides to charge, and remaining relatively calm to keep your wits about you. Easier said than done.
I've also seen two grizzlies in Glacier - one was a roadside bear.
And I've seen one crossing the road up near Yaak, Montana.
Next up, I'll have to think of my encounters with black bears, which is far less than grizzlies.
Over and out.
Last edited: