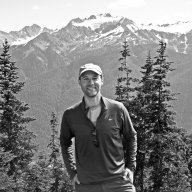 Joined

Jun 8, 2013
Messages

20
I'm an experienced backpacker who works too much and only gets out in the wilderness a week or two a year. When I do go, I look for solitude, amazing scenery and a full wilderness immersion. It's the antidote to taking the NYC subway every day. I'm also an avid photographer, and plan on getting into camp each day by 4pm so I can bask in the best light. You can check out my photos at: randakag.smugmug.com.
My lovely wife and 2 kids have no interest in sleeping in tents and not having a bathroom for a week. Hardly unusual...
On the trail I'm a self-contained unit, carrying a one-person tent (I love my tarp-tent), jet-boil and gravity water filter. I don't use GPS, preferring to stay on trail with topo and compass. I also like to go relatively slow, 7-12 miles a day, to fully take in the wilderness about me. Lastly, I often prefer Wilderness Areas to NPs. More solitude. Less pavement. If you're looking for a low maintenance hiking partner for a week off the grid, drop me a line. Thanks!
Andrew
PS: después de vivir varios años en Argentina y Chile en los '90, hablo español.