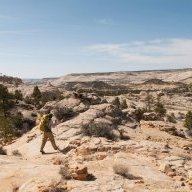 Joined

Mar 4, 2012
Messages

100
Here is a trip report that won't be finished for a couple years (at least), but I think it will be more enjoyable to share as it unfolds rather than write up volumes on it once it is all finished.
I have tossed around the idea for a decade or so of hiking the length of the Great Western Trail through Utah. I got the idea when I came across a man and his mule many years ago in American Fork Canyon. The man was a terminal cancer patient travelling the length of the GWT, or at least some section of it-- I don't remember; nor do I remember much else about this fellow, except that his ambition to take this on as his life was winding down was highly inspiring. My life isn't winding down, but ever since, the idea of a contiguous route travelling Utah top to bottom has been intriguing.
In 2012, I finally decided to make it happen. I am not at the stage of life right now where I can take on the whole length of the state at once in a through hike, but I figured I could do it section-wise by looping in and out of segments of trail with the help of shuttles on several long weekends each year. I picked a 63 mile section nearest me in the Wasatch to start in June. From there, I decided I would connect this core section in the Wasatch and tag on sections to the north and south alternatively until I've reached both the Idaho and Arizona borders at some point a few years down the road.
Section One - Central Wasatch - Parleys to Provo Canyon
The first outing started and ended on the valley floors of Salt Lake Valley and Utah Valley respectively. On a Saturday in June, my wife dropped me off at the park/trailhead at the north end of Wasatch Boulevard in Salt Lake City and I started up and over Grandeur Peak and then dropped down Church Fork into Millcreek Canyon.
I wouldn't actually connect with the GWT for several miles; not until well into Sunday in fact. I could have road walked up Millcreek to connect with the GWT more directly, but I was interested in hiking the length of the 18 mile Desolation Trail instead. This meant I would omit a small section of GWT, but still be able to link it into a contiguous route. The Desolation Trail starts up Thayne Canyon which is essentially opposite Church Fork in Millcreek. It is a hearty climb--especially early on--then curves around Mount Raymond. I spent the night above Porter Fork and then made my way up to Desolation Lake the following day where I was finally able to connect into the GWT in ski resort land.
Once on the GWT I followed it north and dipped into the top of Big Cottonwood Canyon through Brighton at dusk.
I set camp between Dog Lake and Lake Mary and started up over Catherine Pass the following day into the American Fork drainage (Dry Fork/North Fork). I detoured up onto the Ant Knolls for some fine views and continued south with my eye on the North Peak of Timpanogos--my goal for that evening. I hiked until dusk once again, and made it to Julie Andrews Meadow near Timponooke for the night.
Tuesday's route was a very familiar section of trail wrapping around the front of Mount Timpanogos and out one of several canyons into Utah Valley. I chose Battle Creek, since it was the easiest for my wife to pick me up.
It was 63 miles total over 4 days/3 nights. Most of the terrain was not new to me, but I really enjoyed putting it all together.
With that big chunk complete, I needed to add on a couple small day hikes to complete what I'm calling the Central Wasatch Leg (Parleys Canyon to Provo Canyon). I suppose I could have done this in conjunction with the 63 mile initial section, but I thought it would be nice to enter and exit that section from the valley floors instead. Plus, I needed a few snowshoe routes to keep me busy overwinter. So, to complete the Central Wasatch Leg, I did a snowshoe up Church Fork in Millcreek, along the Pipeline Trail, and then from Elbow Fork, I went up and over into Lambs Canyon, ending at Interstate 80 in Parley's Canyon. Then to complete the southern end of the leg on a separate day, I did a snowshoe up Battle Creek from Pleasant Grove, up and over Big Baldy on the face of Mount Timpanogos, and then down into Provo Canyon, ending at US-189. Here are some photos of my twilight hike over baldy into Provo Canyon to complete the Central Wasatch Leg. (Cowboy got to come along on this leg since we didn't cross any protected watershed):
The next section I call the Southern Wasatch Leg and will go from US 189 in Provo Canyon to US-6 near Soldier Summit. Since this section involves a long section of pavement, I went ahead and knocked out a nine mile section of this leg on a training run for my recent marathon, up Provo Canyon, then turning into the South Fork and following it to the end of the road where the GWT once again becomes a trail. Depending on my work situation I hope to push this section to Soldier Creek (40ish miles) next month. Also, this summer I hope to start into my Northern Wasatch Leg which will go from Interstate 80 @ Lambs and drop back down onto the Wasatch Front in the Farmington/Fruit Heights area and that's probably as far as I'll get this year. In 2014, I'll shoot for having everything from the Idaho border to Interstate 70 complete.
Featured image for home page: