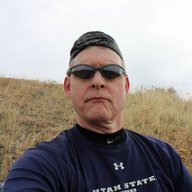 Joined

Dec 23, 2013
Messages

3,016
I hiked up Grandeur Peak this morning here along the Wasatch Front . This was my first time hiking to the top in the snow. I did hike to the top on January 1st, 2012 taking the West Slope Route but there was only a little snow at the very top that year.
I arrived at the trailhead up Millcreek Canyon at 8:00 am and set off through the Church Fork Campground to reach the official trailhead. The trail was in good condition all the way until I reached the Millcreek Ridge where some drifting snow caused me to post hole a bit to get to the summit. I also lost one of my Micro Spikes on the way up but I didn't notice until I hit the steep section above the ridge and my right foot kept slipping. Thankfully, someone hung it on a tree limb next to the trail and I found it on my way down.
Other than a couple trail runners on the way up, I had the mountain to myself. I was all alone when I reached the top but I didn't stay long due to a strong wind blowing. I ate an energy bar and headed back down to see if I could find my Micro Spike. About halfway down the mountain, the sun broke out and I descended in warm sunlight. On the way down I passed a steady stream of folks heading to the top.
Only one other vehicle just east of the Church Fork Campground entrance
I must be going the right way!
Someone has made a snowdog
The trail
First good look at Grandeur Peak
Red rock formation the trail passes near
Moose track in the trail for about a quarter mile
Wildcat Ridge
First Mountain Mahogany on the way up
The trail - Grandeur Peak int he center of the image
Thumbing my nose at Millcreek Ridge. This is the spot last July that I came off the ridge and had to descend down Church Fork instead of completing the route - only twenty five minutes from here to the top of Grandeur.
How in the hell did I not complete that hike! Only one thing to say, "Aaaaargh!"
Some neat snow/ice covered trees near the top
Love these trees
Mountain Mahogany
Looks cold
The sun would pop out occasionally.
Gorgeous!
Almost at the windswept summit
Church Fork Peak and Mount Aire to the east
Mount Olympus and Triangle Peak to the south
Salt Lake Valley and the Oquirrh Mountains to the west
Looking down on the Church Fork drainage on the way down
Old hornets nest
@Artemus
- what kind of tracks are these?
The End.
Last edited: