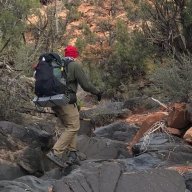 Joined

Feb 14, 2022
Messages

23
What is the Grand-Moab Route?
The Grand – Moab Route is an ~140-mile long hiking route with its eastern terminus at the confluence of the
Gunnison and Colorado Rivers in Grand Junction, CO
, and then continuing to the historical
American Indian Crossing at the Colorado River (AICC) in Moab, UT
to complete the walk at the western terminus.
G
enerations of people used this broad and relatively shallow crossing to get into what is now Moab Valley.
The crossing allowed a break in the cliff walls versus other places along the Colorado and Green rivers. Many ancestral people, Utes, LDS pioneers, traders along the Old Spanish Trail, and many others used this vital crossing. A fitting end, or start, to a journey.
Unlike the well-known
Kokopelli Trail
of a similar distance and point-to-point goal, this route is hiker-oriented and goes to higher elevations, through wilderness areas, and a little off a mountain biking path.
The name for this walk works on a few different levels as you connect the regional hub of Grand Junction, CO, with Grand County (Moab), UT). Additionally,
before 1921 the upper Colorado River to the confluence with the Green River just south of Moab had the name "Grand River."
The genesis of this idea came about
during my Utah walk a few years ago.
Though tempting, I felt ready to end the trip by November.
Over my years in Moab since I've lived here, Joan and I wandered about and saw many of these
"in-between places"
that make up this part of the Colorado Plateau. And as I learn more about the cultural geography of the area, I think it's fascinating to follow many of these old travel paths that link the various places.
And, for me, starting at the confluence of two critical Western rivers seems a fitting place to start or end a journey. There's something inherently intriguing about
where water comes together with other water.
Finally, the route makes a grand one to savor the places between Grand Junction and Moab that get lesser use than more well-known sites near this portion of the Colorado Plateau.
The routes highlights include:
In addition to the scenic highlights this route takes in, it logically connects many of the historical travel paths of Barrier-era people, Navajo, Paiute, Fremont, Ancestral Pueblo, Ute
, Spanish Trail traders
, 19th-century and early 20th-century ranchers, and many others who've come by since.
You'll see
petroglyphs and pictographs,
rock structures, and even
Ute scarred trees
.
You walk in the footsteps of people who came 1000 years ago. Or more.
A lot to see and experience in a relatively short route.
More info, or just a lot more photos, on my website.