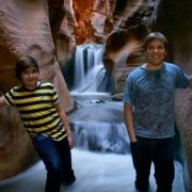 Joined

Jun 2, 2012
Messages

161
Ok, so this trip report isn't particularly adventurous or out of the way, but I did get some cool photos.
Friday the 5th my brother Justin and I drove down to the Goblin Valley area. We camped on this BLM spot I always go to, by some cool Hoodoos. I woke up at sunrise to see if anything good could be shot, but unfortunately the skies were basically clear with a cloud bank blocking the sun. Still made for a semi interesting sky:
My little brother had never been to Goblin Valley before, so he seemed to enjoy finally going. I have been there more times than I can count so I just wandered around the Hoodoos for a bit and found a cool hidden perch/lookout to the flat desert out east at the very back of the first valley. We sat up there and talked for a while, taking in the epic view.
Up next it was time to go see the Chamber of the Basilisk. On the way there we saw a bunch of lizards, par for the course in the desert, however, all of a sudden a big lizard skittered out in front of us whilst savagely devouring a dying lizard half his size. The little guy struggled for life, but there was no way he was getting away. Has anyone ever seen this? I had no idea that lizards were cannibals.
Saga of the Lizard Battle pics v
Also there were some giant bumblebees on weird fruiting plants that were EVERYWHERE in the wash that I've never seen growing at Goblin Valley v
I have been to the chamber 4 times, but never when the sun was shining in, which makes for quite the reflected light show. Make sure and check out the little tunnel cave thing that the whole chamber drains into.
We then hit the road to go to Dead Horse point and Canyonlands. I have been to the Needles side but not to Island in the Sky, so it was real great finally seeing these. We hit most of the overlooks on island in the sky, and watched an awesome red sun peek out at the last minute of the day from a very high perch.
Monitor and Merrimack Buttes in high winds and big storm clouds on the way to Dead Horse v
Dead Horse Point v
Cool sun rays over Dead Horse Point v
Canyon Lands Sunset v
Blue Hour light and haze over grand view overlook v
We slept in the car just outside the park so that I could go snap my icon shot of Mesa Arch at sunrise. Of course it was mobbed with photographers, many shooting selfies on the arch, and many who were very rude to anyone in their shot. One really needs a fisheye to get a good shot here, but I am poor and only own one lens. Either way, I do have to hand it to nature on this one, as this spot is tremendous to watch at sunrise. Perhaps the most amazing sunrise I've seen, and it was merely a cloudless day. The red glow on the arch is spectacularly intense and awesome!
Mesa Arch v
Washer Woman Arch at the crack of dawn v
Next we went to Arches because we had a permit to the Fiery Furnace. Good luck seeing anything there without a ranger, as we spent hours in the triple digit heat trying to find our way to any point of interest or at least trying to meander east through the sandstone walls, all while following the rules about walking only in the sandy washes or on bare rock. We did after much wandering around find the Walkthrough Arch, which was worth it. It's in a giant enclosed space with a narrow entrance and a pothole dry fall alcove that glows so red with reflected light that it seemed to be the heart of the fiery furnace itself!
Walkthrough arch and my little brother v
Just walkthrough arch v
We wandered around some more and came to a dryfall overlooking Salt Valley and the intense blue dirt near the Fiery Funace. v
We did not see surprise arch or skull arch or all the other narrows and other such deals because we were simply unable to find them, not for lack of persistence, however.
We then went and hung out at sand dune arch and double arch, waiting for the day to cool down.
Near the Wolfe Ranch at the bottom of Delicate arch there was a lot of marshy water that I don't ever remember seeing anywhere near as much of in pasts visits, and it was loaded with some screeching green frogs.
My brother had never been to Delicate, so we hiked up as the air cooled and waited around watching lightning behind the arch and getting a bit rained on, which was refreshing and welcome after such a hot day. Finally, I snapped this cool pano during the 15 seconds of red light.
I also noticed that on the back side of the arch there are moki steps and cut off steel pole stumps stuck into the rock, I assume because long ago that was the route up. They make it very easy to get down behind the arch for a unique perspective. Sort of weird that they would leave nasty black and silver melted steel posts embedded within a few feet of the arch itself, with deep holes cut around them, but Duralog flames scorching the rock from Michael Fatali are the end of the world.
Anyway, that's the end.
Featured image for home page: