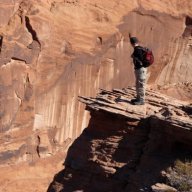 Joined

Jun 16, 2012
Messages

1,487
Well, on August 18, 2012, my wife and I took another couple to backpack to Spider Lake in Garfield Basin up in the Uintas. We had backpacked to Long Park and Swasey Lake before, but I wanted to make it further to Spider Lake. The friends, I should mention, were younger, but had never been backpacking before.
So I broke my first rule of introducing people to backpacking: I went somewhere I had never been before. Then I broke my second rule: I took them on a trail I knew to be pretty hard and long.
Yeah.
Well, the hike to Garfield is surprisingly tough. There are a lot of, what we call back in east Tennessee, PUDs (Pointless Ups and Downs). There are just as many ascents coming out as there are going in. The trail is also crazy rocky, even by Uinta standards, making for slow hiking.
Luckily, the weather was nice, but it took us about 7 hours to go the nearly 10 miles to Spider Lake. We didn't see many people at all, so at least that part was nice.
But the whole trail and Spider were just trashed out. There was so much trash along the trail that eventually I ran out of places to put it in my pack and had to stop picking it up. At first I thought it was another careless scout troop, but at Spider I found a large broken glass bottle of Jack Daniels...I figured that probably wasn't a scout troop. So then I started thinking it was probably careless horse riders...there was a lot of evidence of recent horses on the trail.
I have never seen this much trash in a western wilderness...I was terribly disgusted by it.
Spider was very pretty otherwise, and we had the lake totally to ourselves. We heard a pack of coyotes at night, so that was cool.
On the way out the next day, I saw a helicopter hovering over some cliff bands, and it flew around for awhile. As we descended the mountain, they saw us and hovered right over us for a couple of minutes until we waved and they waved back. When we got back to the trailhead, there was a SAR in progress. We gave them our info and then headed home. We learned later that they found the missing woman down near Moon Lake.
The hike was long and hard, with all the ascents and rocks. I think my hiking companions wanted to kill me, but they all muscled through it. I don't know if I'll ever convince the new people to hike again, but we'll see. But don't ever let me hike that trail again. The reward just wasn't worth the effort, and the trash totally killed it. I want to think that all the trash was a result of one irresponsible party, but, if so, they really worked to trash the place.
Anyway, here are some of the pictures: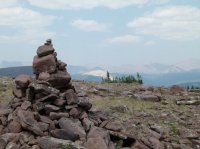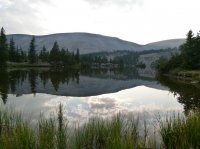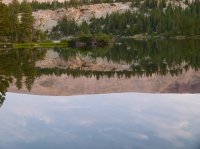 Rocky trail even by Uinta standards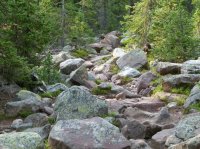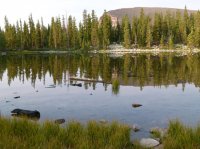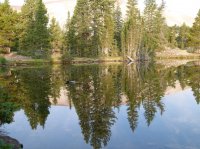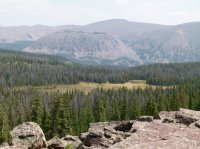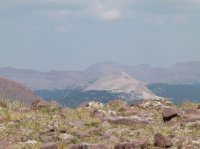 The UHP helicopter just after checking us out.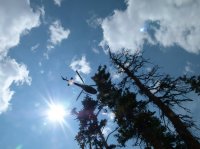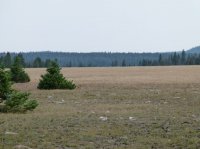 10 miles up the trail...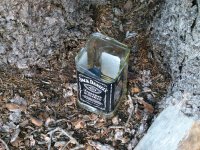 Featured image for home page: