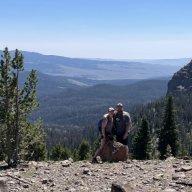 "Going to the mountains is going home".
Joined

May 26, 2019
Messages

112
This summer my wife and I had the incredible opportunity to spend a few weeks in the Fox Park area of the Teton Wilderness exploring and mapping invasive plant species in the GYE. It was by far one of the wildest areas we've ever been in and the experience was simply amazing.

We started the journey up to Fox Park from the Pacific Creek trailhead following the atlantic pacific creek trail where we spent some time exploring around weasel creek and ermine creek. The area in there is as wild as it gets, just simply beautiful. From there we headed north into Fox Park to the cabin where we spent the next few weeks.

During our time there we hiked and explored the headwaters of the Snake River, mink creek, Phelps pass, into Yellowstone National Park and Mariposa Lake, big game ridge and the continental divide. Unless you've been to this area it's hard to really grasp just how wild it is in here, in three weeks hiking all over on and off trail we saw only a few people who were thru hiking the CDT, at one point we went 9 days without seeing another person.

As far as wildlife we shockingly didn't see much. A few ungulates, sandhill cranes, weasels and bald eagles. We did saw an exceptional amount of grizzly sign in the area and heard wolves howling on several nights, but never did see any. We spent a full day at Mariposa Lake and there was very fresh grizzly tracks and scat literally everywhere.