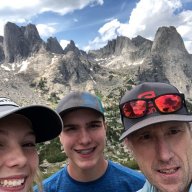 Joined

Dec 27, 2012
Messages

570
I saw what looks to be a good deal on a set of 200 lumen flashlights plus a mini-light at Sam's Club for $20. I thought I would ask if anyone has picked them up and if so are they any good? I can't find a link on the web. Otherwise I would have posted it.

I ask this because I recently picked up a Gerber Dime multi-tool and it ended up bending on me while I used the pliers for gripping a cardboard tube of all things.

Also, if anyone has other misc. gear they found recently feel free to post. For some reason I get addicted to finding a really bright flashlight, a good multi-tool or lighter for a low price.