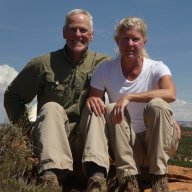 Joined

Dec 7, 2017
Messages

264
September 2 - 8, 2020
I don't have much of a story to tell of this relaxed trip into south-central Utah, but thought I'd share some photos of the highlights.
Had a little luck finding some Germans in the Fremont, but the temps were high and the fish were picky :




Attempted to find an alcove containing pictos I'd seen in a couple of reports from the 1930's. However, the hiking was reduced to pushing our way through dense, shoulder-high sage or army-crawling, so we gave up after having lunch in this promising-looking alcove :


Took a leisurely hike inside the park to check out this granary and faint pictos :
On our last day we hiked out to some petroglyphs I've been wanting to see for some time. Wildfire smoke obscured the dramatic views, so we didn't take any photos of the landscape, but the panels were well worth the long, bumpy drive :
Does anyone know what this brown "dirt" is?? We've seen it many, many times and someone once said they thought it's associated to pack rats.