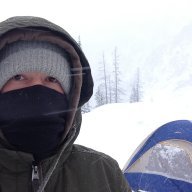 Joined

Sep 12, 2014
Messages

1,873
Winter always leaves me jonesing to get out. It's a long time to not be backpacking. So i decided to get down to southern utah as soon as i could this year. I planned on the first week end of march, which also ended up being the last week end of february. I drove down to Provo with my girl and my two youngest brothers to meet up with an other younger brother and his girlfriend. The youngest two brothers are not pictured because they hiked so irritatingly slow the entire time. We also took my dog Isaac who is frequently pictured, since he led the way, all while running back to make sure i was still right behind him every minute or two. He likely doubled the distance the rest of us walked. After a night in Provo we headed out for a long drive down to Cedar Mesa.
Fish and Owl Canyon make a loop hike of about 16 or 17 miles if you just hike down one to the confluence, and then back up the other. We got a later start than i'd've liked, but that's the nature of hiking with a group. The canyons include some Anasazi ruins, an arch or two, some water falls, and generally great scenery. We went down Owl, and then back up Fish. I really liked the descent into Owl, it felt creative. Also we found some incredible ruins in incredible condition only about ten minutes from the trail head. They're probably almost impossible to miss.
We stopped and took a good look around there. Excellent site. One of the things that i like about this hike was that it alternated some between obvious trail, cairned routing, and just guessing your way up or down canyon as you went when it didn't really matter. It kept things interesting. Also we had the entire place to our selves. The trail register showed that a ranger had been in for the day when we started, probably just checking the route, but aside from that no one else was there the entire time. On account of our late start, we stopped much earlier than i would've liked, probably only two miles in.
But it was a really nice spot. When we'd arrived that day, the skies and the forecast had looked threatening, but it ended up working out about as perfectly as it could. It didn't start raining until after we'd finished dinner, pumped water, and turned into our tents for the night. And then it conveniently stopped before we got up the next morning. All through the night we could hear the rain just pouring over rocks out side the tents. It really came down. That was one of the reasons that we chose to stop where we did, it looked like one of the best places to safely avoid flash flood danger, and we didn't know what we'd find farther down. Any way, with all the rain that night, the flows in both creeks elevated immensely, making for much cooler water falls, and nice clean scenery. It just barely sprinkled on us the after noon of the second day.
Owl Creek went from a relative trickle to a pretty good flow. Also washed down all the ice that had been frozen above this pour off here. Our tents were not far to the right of this falls the first night.
At the base.
Some little ones.
The white thing on the left is ice stalagmites.
Brittinei and Isaac. A lot of the trail was fairly open to interpretation, as you see here. It was great.
Nevills Arch, a little more than half way from the trail head to the confluence.
We set up camp for the second night on a knoll above the confluence where there was enough open space that wasn't covered in low cactus. It was sprinkling when this picture was taken so people were hustling. After we set up here we waited an hour and a half for my youngest brothers to show up. I wanted to go farther down Fish Canyon to try to find some other ruins, but also wanted to make sure that my brothers didn't miss us since we were mostly out of sight of where the trail is where the creeks meet. Fish creek was even larger than Owl, and carrying more sediment. Owl was brown, and Fish was all the way to red. This was the only down side to all the rain, having to filter that water. Where the two creeks met you could see a line between their different colors. Also, Fish Creek was flowing so high we had to toss some rock to improvise a crossing for the girls. But that's not the crossing in the picture below. That picture is pretty typical of a lot of what we did that day.
When we finally found my brothers and let them know where we were camping at i started down lower Fish Canyon with my girl, Brittinei and the dog. All i had to go on were some mark on topo maps, but i eventually found the remnants of one ruin. Though i'm not sure if it was one actually shown on the maps or not.
Also we passed by some dwelling built into these cliffs not far from the confluence.
The next day was nice and sunny, we packed up to head up Fish Canyon and out to the car. The water level in Fish Creek had dropped easily more than a foot since we had come to it the day before, showing just how much the rain had affected it. As we hiked up we passed places where there were signs the change was even greater, a couple feet or so. Hard to believe it had been so high such a short time before. Fish Canyon was very nice. it was a little more open, and now that the water had dropped there was a lot of walking on open rock in the canyon bottom. Very nice.
Eventually coming up Fish Canyon you come to a fairly obvious fork in the creek and stay left. Again i waited for my youngest brothers to make sure they didn't miss us. Some of the ascent up out of Fish Canyon is pretty creative getting up some rock faces. I liked this too. The ascent was mildly strenuous, it just made it's way up. Enjoyably exposed at times. When you get to the top there is about ten to fifteen feet of hand and toe scrambling up a crack, but it's doable enough that we did it with our packs on, and then passed my dog up it.
Views from the top of the mesa were nice. Then about a mile and a half from there back to the car. Fantastic.
Featured image for home page: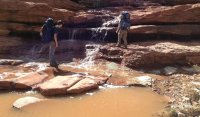 Last edited: