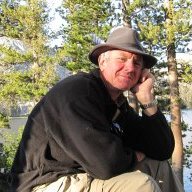 Joined

Sep 30, 2014
Messages

666
My nephew Daniel from Spain, his wife, and two of their friends had planned to visit us in California, and he had requested a camping trip to see Yosemite and, if possible a backpacking trip as well. The only challenge was that his schedule was a bit up in the air, and we couldn't count on specific dates. So no advance reservations. And this for the middle of August and the most popular national park in California.
I had decided to solve the problem by organizing day trips from our cabin near Sonora to Yosemite, and then backpacking in the Emigrant Wilderness to the north, where there are no trail quotas and a group of five would not present a problem. And then the Ferguson and Donnell fires burst out of control...and I was left with very few options. Hmm.
When Daniel arrived in California we discussed the options and decided that we would have to play it by ear. And then the day before we were to head up to the cabin, Yosemite National Park announced that it would be opening to visitors again. "What the hell, "I thought. I took my shot.
The next morning, at 7 a.m., I logged onto recreation.gov and to my astonishment, I was able to get a campsite in the Lower Pines Campground in Yosemite for Saturday, the 18th of August. Amazing. As I congratulated myself for my good luck, it occurred to me that I might also be able to reserve a spot at the Tuolumne Meadows Campground as well. Sure enough, a few minutes later I had a spot for Thursday night at Tuolumne Meadows. Now all I needed was a first-come-first-served backpacking permit for five people on a Friday in the middle of August. Ahem.
On Thursday we left the cabin in Sonora early, so we could get to the wilderness permit office before 11 a.m. But not all our plans went well. One of the kids wasn't feeling well, so we had to stop for a bit. And somehow the day seemed to drag on as we stopped at vista points, checked into the campground, bought lunch, etc. And I wasn't in that much of a hurry, because if we weren't feeling well, there was no point to taking a backpacking trip.
It wasn't until after two p.m. that we finally made it into the wilderness office, and by then I had pretty much decided that we were going to Saddlebag Lake, where there are no trail quotas, if they still wanted to go. But low and behold, the wilderness office was empty except for the rangers, and we were offered all sorts of options, from Lyell Canyon to Cathedral Lakes. Given that some of our group weren't feeling great, and an increase in elevation wasn't going to make things any better, I opted for the shorter (if steeper) hike to Cathedral Lakes for the five of us. We had now secured reserved campsites in Yosemite Valley and Tuolumne Meadows, and a wilderness permit for a group of five on a weekend in August within a couple of days of the trip. That will not happen again.
We enjoyed the rest of the day in Tuolumne Meadows, hiking to the top of Pothole Dome, cooking our dinner, and enjoying a stroll out into Tuolumne Meadows at dusk. The best news of all is that the sky appeared almost smoke free-a good omen. And that continued throughout the trip. Even in Yosemite Valley, the smoke was not nearly so bad as we feared.
After what was the first night in a tent for some of my Spanish guests, we hit the trail around 9 a.m. and I was impressed with how well we all hiked. All of the kids are runners, and they were in far better shape than I am. I managed to keep up, and we found our way to a campsite on the far shore of Lower Cathedral Lake before lunchtime. We set up camp, filtered some water, ate lunch, and rested.
In the afternoon the three guys decided that we would hike up to the top of Mendicott Dome, and the two girls hit the beach to bathe and bask in the sun. Mendicott Dome is a great walk from Lower Cathedral, and we loved the 360 views from the top. After a ramen dinner in camp, we all wandered around the outlet of the lake, taking in the views and taking more photos than we could count. And then bedded down for a first night in the wilderness for them all. Best of all, we were all in wonderful spirits.
What made this trip so much fun for me was that the kids (they were all under 35...so not really kids) not only pitched in and took over any task that I started in camp, but also were really vocal about how much they enjoyed every single thing about it, from the views to the hiking to the backpacking systems we'd evolved over the years. They were sold, and I was charmed when they took a Leave No Trace approach to the level of picking up the micro-trash from others as we hiked along the trail. I'd take these guys anywhere.
The next day, we were up early, caught the gist of a simple wedding ceremony on the far side of the lake and applauded at the kiss, and hiked back out to le Vin Blanc. From there we drove down into the valley, checked out the visitors center and had lunch at the café. (Degnan's won't open until the 24th.)
In the afternoon we checked into our campsite and set up camp, then took a well-deserved rest and a rinse in the Merced River. For dinner we grabbed some salad fixings, some beer, and cheese and crackers from the store, and ate out at the El Capitan picnic area. That led us out into the Valley floor to catch that last of the light of the evening on El Capitan and Cathedral Rocks. Magic. And they were enchanted.
The next morning we broke camp early, climbed into the van, and drove to Tuolumne Grove to see the Sequoias. We got there early enough that there were very few people, and those that were there were quiet. It was lovely. By 10:30 we were back at the van, and had passed at least 100 chattering people on their way into the grove. We drove home to Napa, feeling sensationally lucky that every single detail of this trip turned out perfectly. And they are all absolutely convinced that we should do it again...maybe next year!