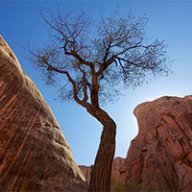 Joined

Aug 9, 2007
Messages

12,939
I had a incredible three day weekend of canyoneering in Zion National Park in mid-September. We kicked it off with a trip through Misery Canyon, more commonly known as Fat Man's Misery. Contrary to what one might think, a larger than average man such as myself can get through the canyon in a somewhat less than miserable state. The canyon got its name from a now-eroded feature that you used to have to squeeze down through, but the name lives on thanks to the extraordinarily long approach and exit hike. Here is a map with my GPS tracks:
View larger map.
We knew this hike had potential to be a 12+ hour day so we started bright and early. Well, not so bright actually. We started before it was even light out. This photo was shot at f3.5, IS0 3200 and 1/5 second. It was DARK!
The first mile or two is spent climbing a steep canyon with plenty of little things to climb over and around. Eventually it tops out at a pass where we caught our first glimpse of the terrain we were heading into. That's the East Fork of the Virgin River down there, aka Parunaweap, aka The Barracks.
Looking back down the canyon we just climbed up. The highway through Zion's East Side is just down at the end of it. That's Checkerboard Mesa on the right.
Amazing views and light down into the East Fork.
Just before dropping into Misery Canyon, we crested a high slickrock ridge. The colors and patterns were outstanding, as was the light.
After a steep slickrock descent, we found ourselves at the floor of Misery Canyon and soon after, at the first rappel into an amazingly beautiful section of fluted narrows.
The narrows came in bursts... one good long stretch at a time, followed by some open wash, immediately followed by another great stretch of beautiful winding corridors.
We arrived at a drop with a sling fixed to the wall. The idea here is to swing out onto the ledge on the right and then lower yourself down into the pool.
But what you don't see until you are on the ledge, is that you are in the incredible 'arch room' of Misery Canyon. In reality, there are several arch rooms in the canyon including one with two arches that is so deep in the canyon it is nearly pitch black, but this one definitely had the best light. That's
Bill
down there flipping me off, as usual.
neiloro
just realized where he is.
lostlandscapes
taking it all in.
There is a short rap just after the arch room, then a break and then more good stuff.
I bagged up my big camera for a while at this point so I suppose it's about time I break out the video footage from this canyon.
A few shots from a dry section of slot below the confluence of the East Fork.
And then the camera went back in the dry bag and stayed there for a while. The lower section of the canyon was wet with springs and flowing water pouring into the canyon. It was absolutely amazing. If you didn't watch the video above, check it out.
We topped off our water reserves at a spring before heading down stream through the Barracks to find our exit canyon. We only had about a 1/2 mile to hike on the East Fork but it was a glorious half mile.
The exit route was easy to find but not quite as easy to climb. There were a few sections of rather spicy fourth class climbing. If the slickrock hadn't been to course and full of foot and handholds, this would have been impossible.
Hiking back along the rim of Misery Canyon.
After reconnecting with our path from early that morning, we took one last break in the shade before pushing for the truck. After sitting there for 10 minutes or so, I looked over and realized we had rested right next to a near mirror image of the Backcountrypost logo.
The hike out was indeed brutal. A lot of elevation gain, something like 1500 feet I think. Combined with many miles in the hot, exposed sun. There's a good reason they call it Fat Man's Misery. We had reasonable temperatures and it was still a burner. I would never dream of doing this hike in the summer. To give you an idea, my GPS read 4.8 miles by the time we reached the floor of Misery in the morning. That means this is something like a 14+ mile day, much of which spent climbing back out. But despite all that, Misery
is
bliss.
Featured image for home page: