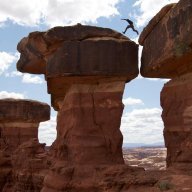 Joined

Jan 17, 2012
Messages

328
September. Also known as
Primetime
in Zion National Park.
Nick
,
Bill
,
neiloro
and I kicked off a three day weekend of canyoneering in and around Zion with Fat Man's Misery. After a late night around the campfire and the typically fitful night of "sleep" in Watchman Campground, the bones were slow to creak awake from our abbreviated slumber. Still, we beat the sun to the trailhead, which greeted us with an ethereal pre-dawn chill--made all the more authentic by
someone's
improperly sealed water vessel leaking a liter of icy H20 onto the padding of my backpack. If I wasn't awake before, I was now.
A bad omen? Was the day doomed? Not in the least. After a fast-paced hustle up Checkerboard Canyon, things heated up quickly. At the saddle just west of the Mesa we were greeted cordially by the sun and a gloriously sweeping view south of the Parunuweap drainage. After another hour or so of dipping easterly in and out of several drainages, we reached the head of Fat Man's. What followed was a mesmerizing display of kaleidoscopic perfection. Every new turn greeted us with a fun, watery obstacle; every subsequent twist presented us with an even more dazzling union of shape and light.
There is certainly nothing
miserable
about this blissfully radiant canyon.
View larger map.
For more detail and photos, see @Nick's fine trip report
here
.
And now, please enjoy the video!
Featured Image for Home Page: