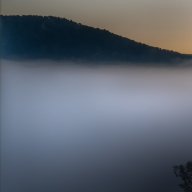 Joined

May 19, 2012
Messages

1,968
It has been a pretty difficult time for my extended family lately, so someone had the great idea to have a float trip down the Colorado. This was going to be my 11th trip down Meander Canyon, or maybe the 12th or 13th. I can't remember. The only time that worked for everyone was the 1st of August. I knew it would be HOT, and it was.
The high during the day was between 100 and 105 degrees, night in the low 80's. We rented 4 canoes, with T-cats, which connected 2 canoes together with a platform in between. An awesome invention, as you could stand in the canoe, and better yet use it as a diving platform.
We only made it 24 miles in 5 days. Which might be a record.
At home in Carbondale: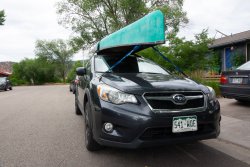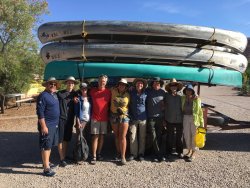 At the Potash boat ramp: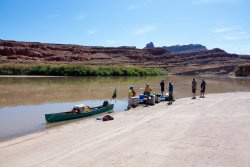 We put my boat in between the canoes. We never paddled, just drank lot's of beer and swam.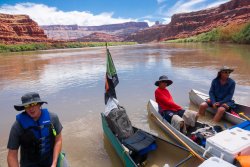 Our 1st camp was at Petrified Wood camp at mile marker 37.5. We didn't see any petrified wood: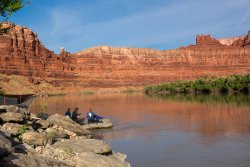 We spent most of the time in the water: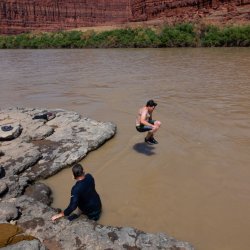 The big jump: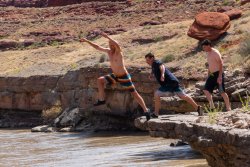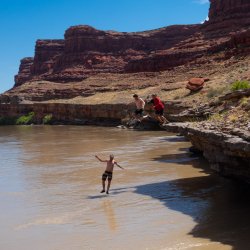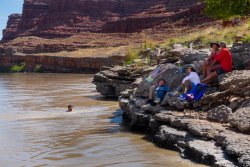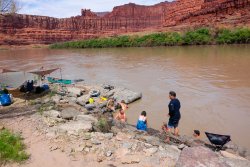 Tex's boat. The only one we saw the whole time: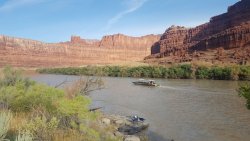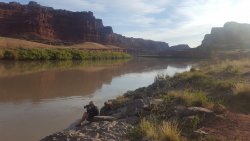 Off again, destination Little Bridge Canyon at mile marker 30. A rough day.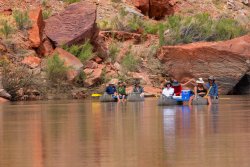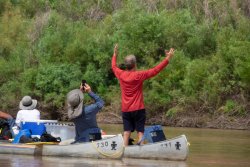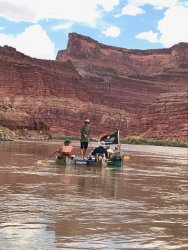 Little Bridge Canyon. I have camped here twice, both times it was heaven on earth. This time it was living hell. The worst mosquitoes I have ever seen, they were relentless. We had planned to stay here 2 days and hike Little Bridge Canyon, but we left early the next day.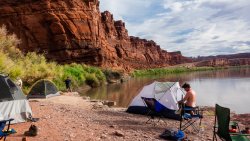 Another heavenly uneventful day: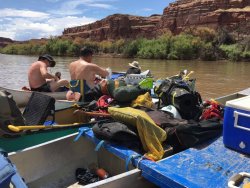 Our last spot was better, a lot better, at Upper Lathrop Ledges at mile 24, which we had to ourselves. We spent 2 days here. Just shy of halfway to the Confluence, about a mile from Lathrop Canyon. It is a huge spot, ample room for well spaced tents, and expansive rock to hang out on: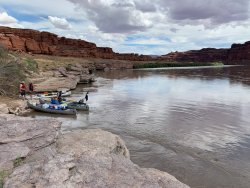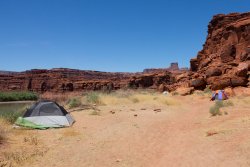 Airport Tower: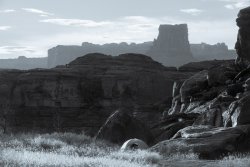 Soon after arriving, we found Nirvana. Between to large slabs of rock was a cave like alcove that was at least 20 degrees cooler. So we moved the coolers and the kitchen in and relaxed in here when we weren't swimming: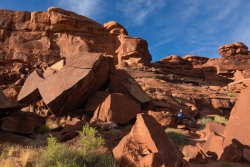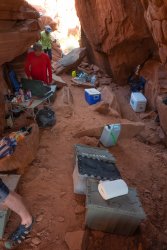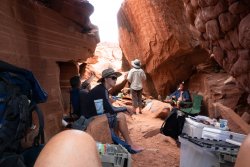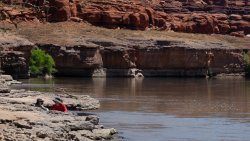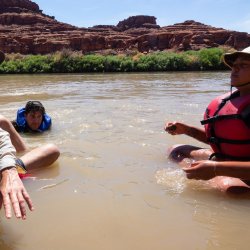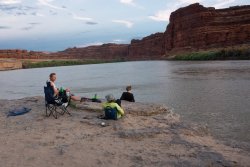 We had a great time.
As a wise once said, "That's all folks"