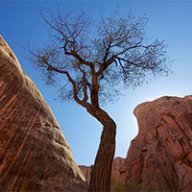 Joined

Aug 9, 2007
Messages

12,940
As I mentioned in another thread, I keep a personal Google Map and I drop a pin on every spot that I've ever camped. If I've camped there multiple times, it's a purple flag. One time, it's a blue flag. Obviously I'm missing a ton of flags from when I was younger, and some of the early ones I've just placed in the vicinity of where I think I was.
For me, this is a great tool to keep me motivated and especially to keep me exploring new places. It's easy to get in a rut and keep going back to the same awesome places but then you don't get a new pin on the map!
Here's a screenshot of the Utah portion of my map. I have some flags in Idaho, Wyoming, Arizona and Oregon but not very many.
At this zoom level a lot of the flags are hidden behind others, but you get the idea.
Looks like I really need to spend more time in Cedar Mesa!