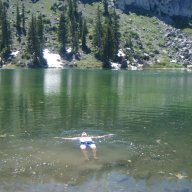 Joined

Apr 27, 2016
Messages

480
So now Chris Stewart is proposing a National Park in Grand Staircase. His main argument that being National Park status with it's supported infrastructure of roads, toilets, etc and the term Park instead of Monument will bring more tourist. He says it is a win/win because you get tourism and you can extract coal. I usually enjoy reading KSL news comments just so I can laugh at what some of the people in this state think, but with the articles around the monuments I have had to avoid them because I just get pissed off about the ignorance of most of the people commenting. I saw it mentioned above that a good number of people all of the sudden think Utah will be able to do whatever they want with the land.
Oh and also another topic that came up in Chris Stewart's interview was his genius way of funding the National Park Service with a "backpack" tax.
https://www.ksl.com/?sid=46211347&n...es-national-park-in-grand-staircase-escalante
Edit - Sorry if my comment is a bit heated. I try my best to mostly ignore the political stuff, especially when commenting here but this has been getting me worked up. My wife is threatening to have the doctor put me on the high blood pressure meds if I can't figure out a way to calm down and drop it naturally.