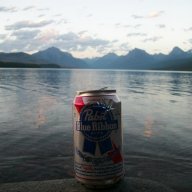 Joined

Apr 1, 2014
Messages

878
This is part 2 of my trip. Days 6 through 10. You can view the first part here:
http://backcountrypost.com/threads/enjoying-the-maze-april-2015-part-1-days-1-5.4594/
You can also watch the trip video here:
Day 6. This was a pretty mellow day, but some wonderful views. We packed up camp, headed down Water Canyon to the waterfall, then headed along the trail to the confluence overlook.
Hiking down Water Canyon: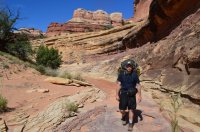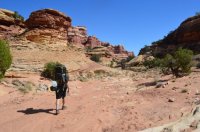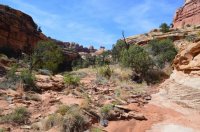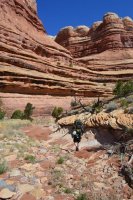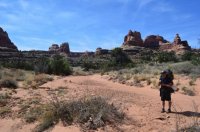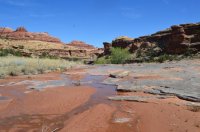 Hiking the trail up Water Canyon towards the confluence: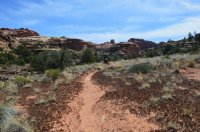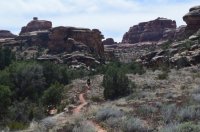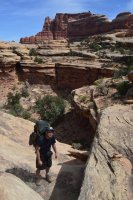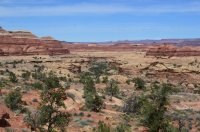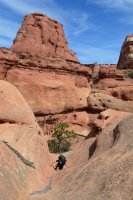 Heading out towards the confluence overlook. This place reminds me of Chesler Park: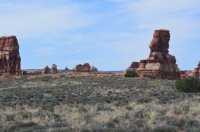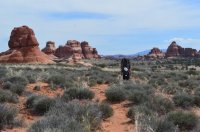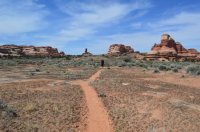 Looking down on the Colorado River: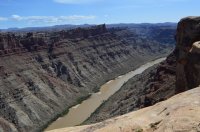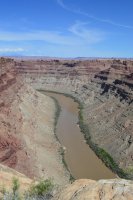 Overlooking the confluence of the Green and Colorado Rivers: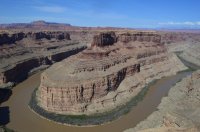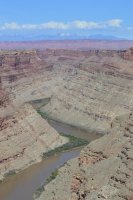 The Green River: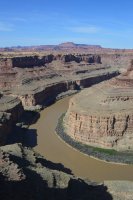 A good look at Island in the Sky: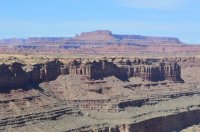 Me making a fashion statement: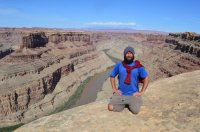 We had already picked out a spot to camp overlooking the river. We decided to make it a short day, and so we hung out at camp for several hours, enjoying life. We set up under a large boulder. Keith slept in the tent, and I just slept on the ground. We had carried extra water with us, but there was a pot hole filled with water near our spot. We had great views looking across at the Needles District. Here are several pictures from around camp: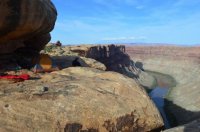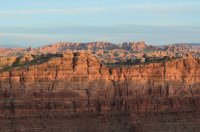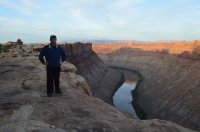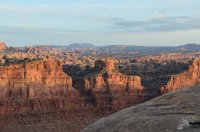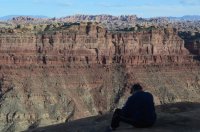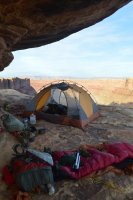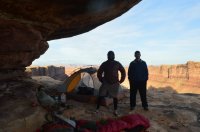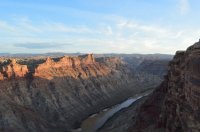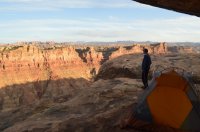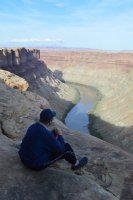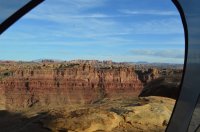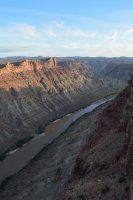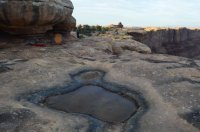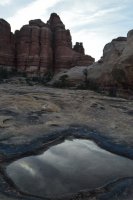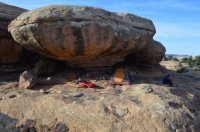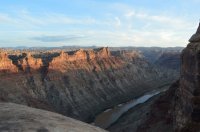 Day 7. Keith informed me I could have some of his food if I would carry it: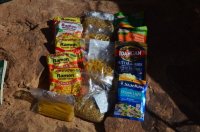 Even after I took this, he still had enough food to eat for a week
.
Spirits were great. We packed up camp, and headed for the Doll House. We took our time, enjoying the route: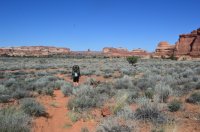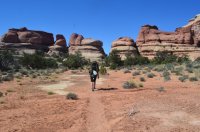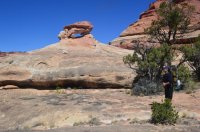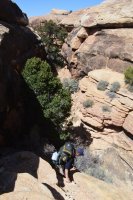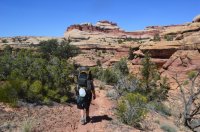 We took a long lunch at our watering hole: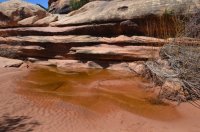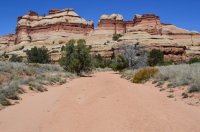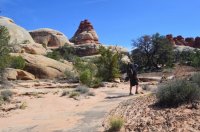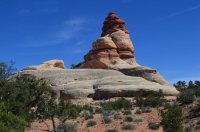 Beehive Arch: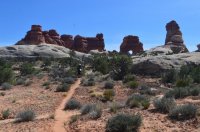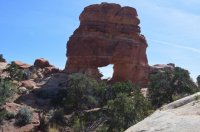 Back to the Doll House: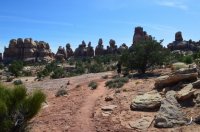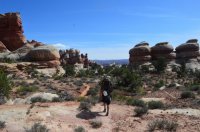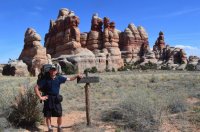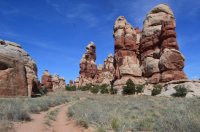 We dropped our packs, and took a stroll out to overlook Surprise Valley: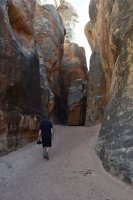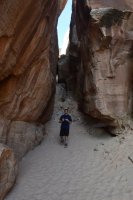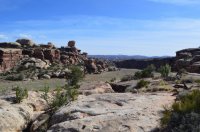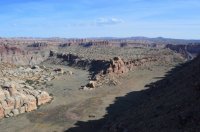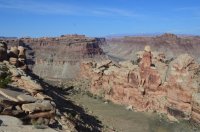 The granaries: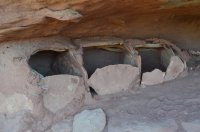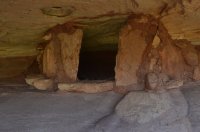 We retrieved our packs, and started hiking out along the Fin's Trail: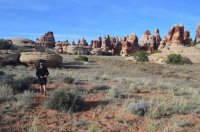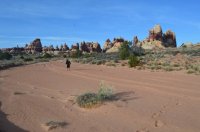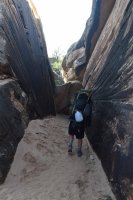 We found a large rock to set up camp on for the night, with the Doll House visible in the background: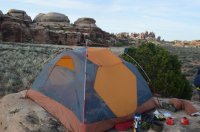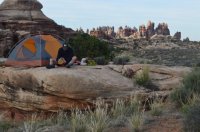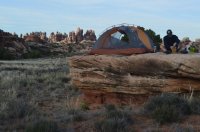 Looking out at the Needles from camp: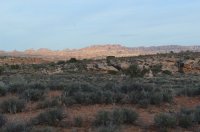 Day 8. I woke up to a spectacular morning view. My camera, which is malfunctioning, doesn't do it justice at all: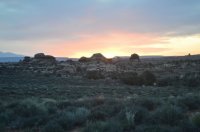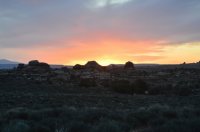 One last look at the Doll House: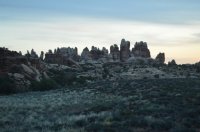 The entire trip, Keith had been experiencing some knee problems. He has what is called runners knee, where his knee's lock up and don't bend. It was very painful. Having to walk up and down slick rock didn't help. Despite all the pain, he had pushed through our entire route. But now the pain was starting to get serious. He pondered trying to hitch a ride back from the Doll House, but decided to give it a go out to the Fins. We made it out to the middle canyon, and took a break.
Wide Valley: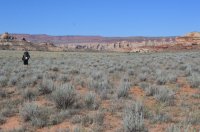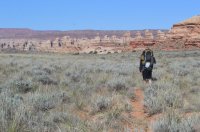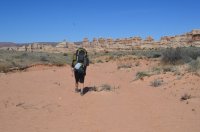 The first large wash coming out of the Fins. Last time I was here it was hailing and flooding. Today it was really hot and dry. We skipped this one.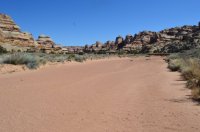 We did find a pot hole with water in the wash: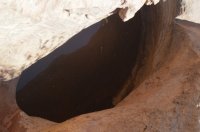 We continued over to the middle canyon: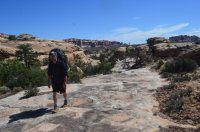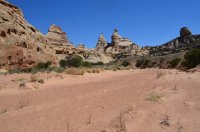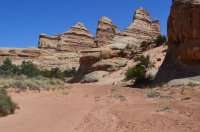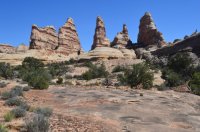 Tibbet Arch: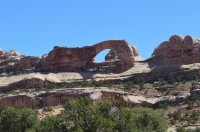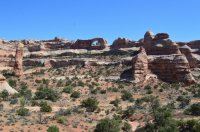 Near the back of the canyon: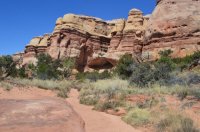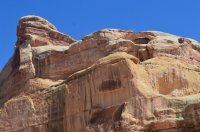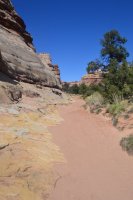 We took a short cut up towards Whitmore Arch: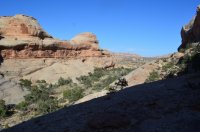 You can scramble up to the left of this pillar, and come out a couple hundred yards from the arch: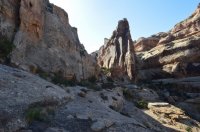 We decided to set up camp right there at the top. Keith's knees were in serious pain. My camera really started to have issues, so I didn't take many pictures. I hiked down around the corner to get water from the spring. It was a quiet night.
Day 9. Here is a few views of camp: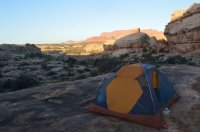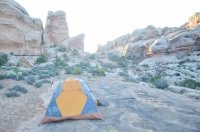 We rounded the corner and walked through Whitmore Arch: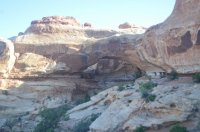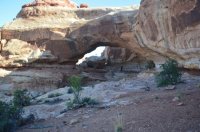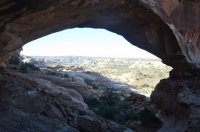 My main camera wouldn't focus properly, and my GoPro memory card was full. Several shots are blurry as we headed up the canyon: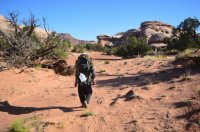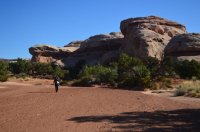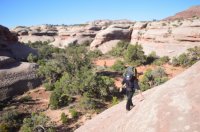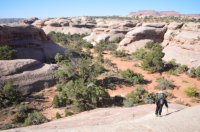 We found another pot hole of water, and filled up: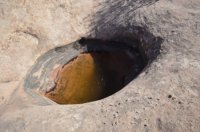 Soon we reached the Doll House road again. Keith had decided the night before he was going to attempt to catch a ride with someone back to my van. He was in some major pain, and at this point was worried about doing permanent damage to his knees. I left him with the tent, plenty of water, means of getting more water, and took off to head down Horse Canyon. The plan was for me to get back to the trailhead by the next day. If Keith wasn't there, and hadn't called the ranger station, I was going to go get him. Hopefully though, someone would pick him up. It was still Sunday morning, so we knew people would be coming out from the Doll House.
My last view of Keith: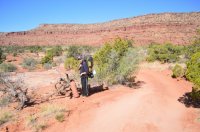 One last look out at the Fins: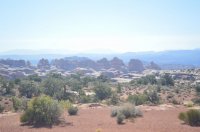 Dropping down into Horse Canyon: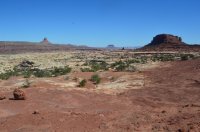 As I worked my way down into the canyon, a small ledge I was standing on broke free, and I fell about 4 feet, landing on my side. As I lay there for a minute laughing at myself, I realized I had landed right on my camera. I jumped up, and made sure the camera was okay. Actually, what ever was previously wrong with it was now fixed, and I was able to take pictures the rest of the day. (still having trouble focusing though).
I love this canyon: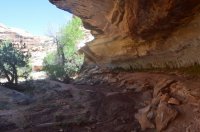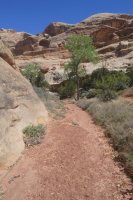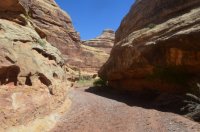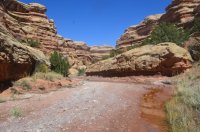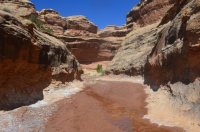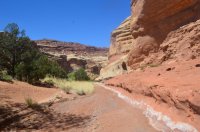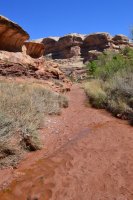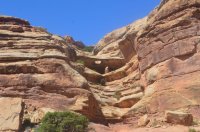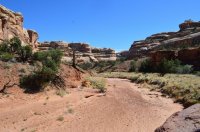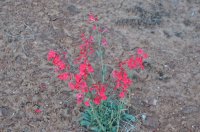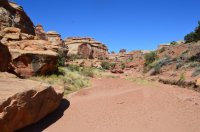 I set up camp on a ledge not far from the trail up to the Maze Overlook. The Chocolate Drops were visible above me.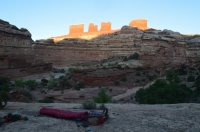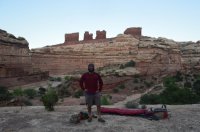 Day 9. I woke up early, and headed down canyon: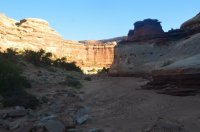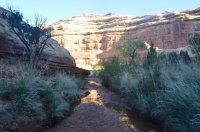 I climbed up to the Maze Overlook: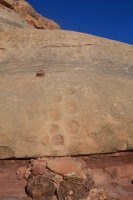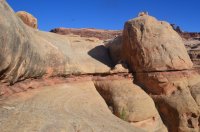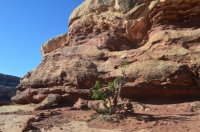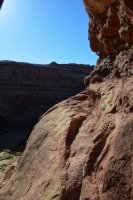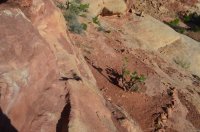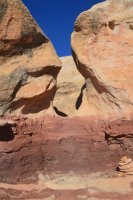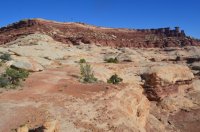 One last look at the maze: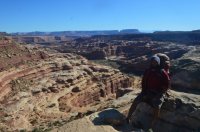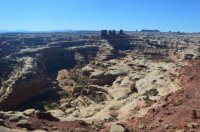 Time to head back up the longest, hottest, most dreaded return walk back to the van. Well, not really. But it sure feels like it on the hike back: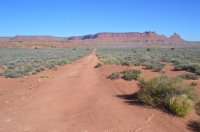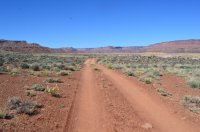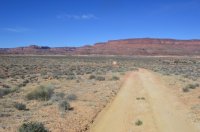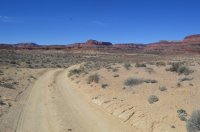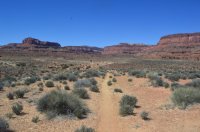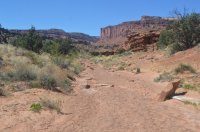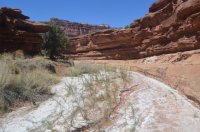 Near the top of the switchbacks, I walked up on 3 girls sitting on the trail. At first, I was trying to avoid them because I smelled really, really bad after being out for 10 days sweating. But then I realized they weren't feeling real well. They said they were dealing with heat exhaustion, and couldn't hold any water down. I offered help, but they said they had plenty of water, and were just going to rest a little bit. I continued up to the top, before I heard one of the girls calling out. She asked for me to notify rangers they needed help. I called the ranger station (there is phone service sometimes from the North Point Road), and they sent some rangers down with some electrolytes to help out. Everything worked out okay for the girls, but it is a good reminder to be careful out there. Heat exhaustion and heat stroke are serious issues, a miserable feeling, and something to be aware of. It effects me, and I hike all the time in it. And this year already seems hotter than normal.
When I got back to the van, I was happy to see the doors open. Keith had made it back!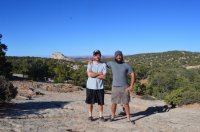 After I had left him at the road, he started trying to walk south. Soon a caravan of 3 vehicles, including one truck with an empty truck bed passed him. He gave the thumbs up sign, to which these kind folks rolled down their windows and asked him if he would like some water. He thought about it for a second, and replied "No, I've got plenty of that. But I sure would love a ride." They rolled their windows up, and continued on. The third vehicle, the truck, just waved. Apparently they considered Keith to much of a risk to allow him into the back of the pick up. I get the whole family and kids with the jeep thing, but an empty truck bed, when your driving with an entourage?
After several hours of pondering life sitting under the shade of a juniper tree, Keith heard a little girl's voice. He looked around, but didn't see anything. He thought he was hearing things, until he heard it again. This time he could here a man's voice as well, they were singing songs. Soon he could see the father and daughter walking the road, both toting large backpacks. Keith jumped out from behind the tree, most likely freaking out the 2 hikers. They had been out backpacking in Ernie's country, and were walking back to their car. Keith told them his story, and the father informed him that if he could climb up the Golden Stairs, he could get a ride with them. Keith looked up, took a big gulp, and slowly started climbing up. Eventually he made it to their car, and these kind folks from Colorado dropped him off at the van.
Here is a look at the route: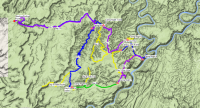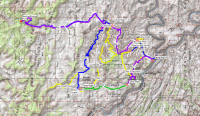 Last edited: