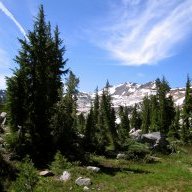 Joined

Jul 29, 2013
Messages

77
Just after the stroke of midnight I set off for Sequoia National Park on my first solo packing adventure. Arriving at Lodgepole Ranger station about an hour early I had time to ponder if my original trip was a bit too much to chew; buddy and I had planned a 5 day trip over Silliman Pass with hopes of reaching Crescent Lake via cross country. Those plans quickly evaporated when two weeks before departure buddy bailed. Emerald & Pear Lake permits are first come first serve and being a Saturday morning I knew my chances were slim. Upon waiting for Ranger station to open I sparked up conversation with a dude from Virginia named Ab. He & 2 sons were planning to ask for the same permits; luckily I received last opening for Emerald Lake.
The Lakes trailhead begins in Wolverton parking lot with a starting elevation of 7,100 ft. After enjoying one last warm breakfast (make your own... that chit was nasty) from nearby Lodge I was ready to hit the trail @ 10:30 am. First couple miles is well shaded with a easy accent to Watchtower.
Watchtower
by
clifton dobbie
, on Flickr
Watchtower route is more scenic but does have a gnarly section on the edge of a cliff. The Hump route is shorter, but one has to climb a bit more. The first lake arrive to is Heather Lake - day use only.
Heather Lake - Sequioa NP
by
clifton dobbie
, on Flickr
Continuing upwards one finally reaches Emerald Lake - elevation 9,300 ft.
Emerald Lake 2
by
clifton dobbie
, on Flickr
I was operating under LILO status (last in, last out) knowing my choices were going to be limited. Campsite #10 was waiting for me. It seemed as #10 was the cast off; apart from the other sites, resting up on rocks with it's own little lake.
small lake near Emerald Lake campsite
by
clifton dobbie
, on Flickr
Ab invited me over to his camp later in the evening for tea and chat time. He had many questions of California that I was happily obliged to offer info. A bit jealous I was, Ab and family were heading to Yosemite afterwards. Waking early on Sunday, sleeping well through the night, quite possibly the best I ever have in the back country, warmed up some Oats and broke camp. I found what looked to be a good clean source of water running through Emerald camp - jackpot!! Filled up body and bottle, rejuvenated for destination Pear Lake.
Hike from Emerald to Pear is roughly 1 mile with 400 ft gain. This is the first time getting good looks at Aster Lake.
Aster Lake 2
by
clifton dobbie
, on Flickr
Pear Lake was all mine! Complete solitude for roughly 4 hours. One other site was taken but no one was around. I took site #2 which had shading, but soon realized as the afternoon grew shadows I was directly in the wind route.
shadows creeping in on Pear Lake - 080413
by
clifton dobbie
, on Flickr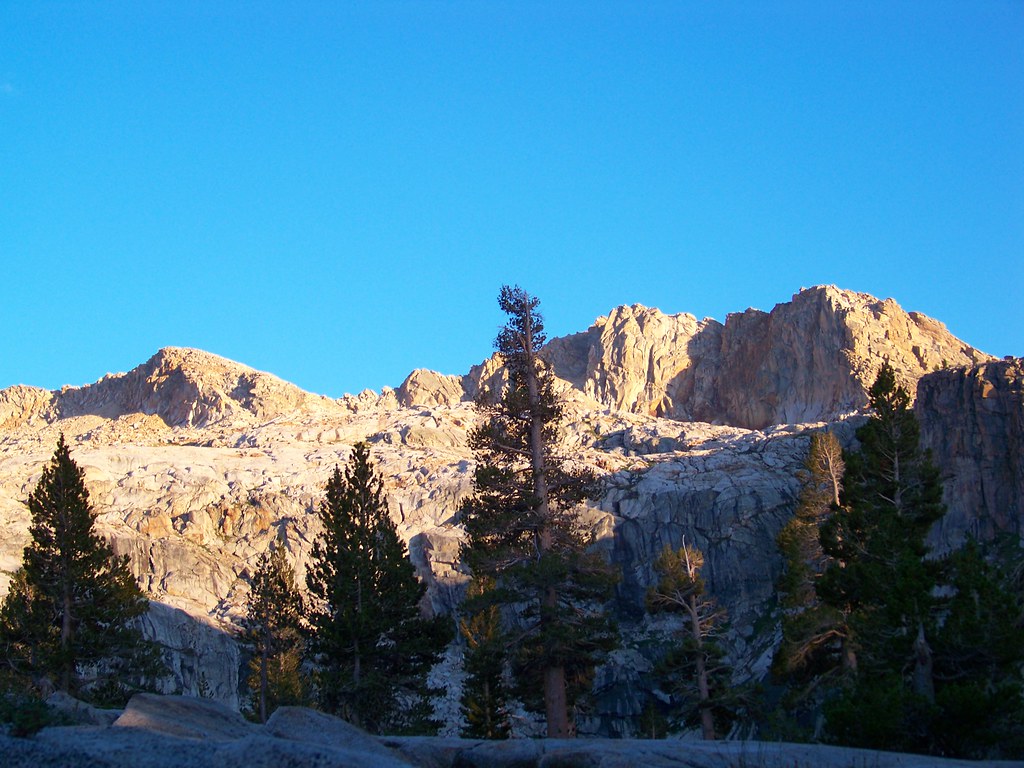 sunset atop Alta Peak
by
clifton dobbie
, on Flickr
100_4534
by
clifton dobbie
, on Flickr
Wish could say slept well at Pear, was not meant to be. Said goodbye at 8 am the next morning with plans to return with buddy to cross country Moose Lake. Hiking out was a great sense of accomplishment. I'll be heading out again solo.. different, yes. So worth it!
Selected image for home page