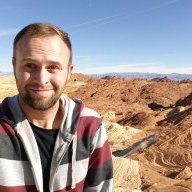 Joined

Jan 19, 2012
Messages

739
I think I have decided to stick close to home for my May backpack I was wondering if anyone can help me with a few questions about Parunuweap.
Disclaimer the guy I am taking is relatively new to backpacking...Should be in decent shape but...
Currently I have 1 night maybe 2 to work with and have decided on two options. Hopefully some of you can chime in
OPTION 1-
Day 1- Get started very early like 6Am, drive down poverty road as far as I can, hopefully starting by 6-7AM, hike in and set up a base camp somewhere between Mineral Gulch and Rock Canyon. Drop off pack and hike as far into parunuweap as possible (hopefully to the powell plaque) turn around and get back to camp at dark.
Day 2- Sleep in, visit the petroglyphs, and leisurely explore mineral gulch, in late afternoon/night hike back to the car
Question-How far is it from poverty road to the powell plaque
OPTION 2
Day 1- Get same early start but instead hike in using the checkerboard escape route. Set up camp before dropping into parunuweap somewhere near the rim, drop into the canyon and spend all day exploring lower parunuweap
Day 2- Wake up and get the heck out of there before it gets hot!
Question- Many of you have used the escape route how difficult is it? Do I need a rope or webbing?
Option 3
-Rock Canyon exit?
Suggestions using my time constraints? Am I being overly ambitious? Anyone else interested
I am going to tag a couple of you that I remember seeing TR for misery/parunuweap
Nick
,
Bill
,
Jammer
,
Don
,
lostlandscapes
,
JamesM
,
dman