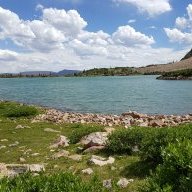 Joined

Aug 8, 2016
Messages

2,071
Last November I had an opportunity to get onto the Uinta Highline trail in November. Pretty usual that the Mirror Lake Highway was still open. I picked Packard Lake as a destination for the day and arrived early on a Saturday morning. There was only three or four inches of soft snow on the trail making foot travel nice. No need to for snowshoes or spikes.
Here's a video of the day if you would like to follow along with me or skip it and read on.
I had heard reports that the Murdock fire had burned all the way up to Scudder Lake so I was curious to see how much damage had occurred. The fire definitely reached that area.
The burn was pretty extensive north and east of Scudder. Many downed trees made locating the snow covered trail difficult in many places. The burn was pretty complete.
Board walks and bridges were pretty much gone only leaving charred remnants and piles of nails.
Arrived at ice covered Packard Lake which presented an impressive view of Mount Agassiz looming in the distance.
Had lunch a few yards south of Packard Lake where I spent way too much time staring at this fantastic view of the Duchesne River drainage.
Back through the Grave Yard on the way back to the trail head.
Some nice evening light on the way out of the area.
Last edited: