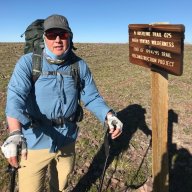 The mountains are calling and I must go
.
Joined

Mar 31, 2013
Messages

1,012
The last few years on my birthday I've done some of the shorter routes in the Uintas as day hikes.
My wife, Nancy, whose attitude about camping and backpacking has been, "I've got a house, why
would I want to sleep in the woods?"
Surprisingly, this year she said, "I'll backpack with you for one night."
So I turned my day hike to Packard Lake into an overnighter with my wife.
We arrived at the Hayden Pass Trail head at Mirror Lake Highway mid morning on the Friday before
Labor Day.
After getting out of the car I noticed this car and knew it was going to be a great hike.
As we're getting our packs together, I decide to visit the outhouse. I get in, close and lock the door. The stench is
so bad I have to swallow the quickly rising contents of my stomach. I go to unlock the door and get out
except the handle on the dead bolt just spins.
You have got to be kidding me!
I gag again and quickly pull my Buff up and over my nose to try and filter the stink.
I start pounding on the door, hoping Nancy, or anyone, would hear and rescue me from
this foul prison.
Then I remember, I've got my multi tool on my belt!
I quickly undo the screws on the deadbolt, take off the cap and expose the locking mechanism.
Even with the cover off it took some prying on the lock to be able to get out.
With that embarrassment behind me, we were off.
You have to keep a sharp eye out or you'll hike right past the turn off.
I wanted to do this hike for one reason, this view
Same spot, looking up the drainage.
The smoke in the background is the Murdock Basin fire in its early days.
I had also recently upgraded my phone to an iPhone 8 and I did some playing around with the camera features.
Back at camp
Recently I picked up two Helinox Chair Zeros.
I've liked it.
Agreeing to do this hike my wife required that I get her a STP (Stand To Pee) device.
She went with the Tinkle Bell and after one overnighter she gives it high marks.
Lastly, if you decide to do this hike be aware that maps and reality don't match.
I spent way too much time trying to find the trail from Wyman Lake to Packard as marked on the map.
I could not find it.
I marked the trail as it exists in reality.
Overall, the hike is pretty bland, but the views from the cliff on the southwest end of
Packard lake of the Duchesne river drainage are pretty spectacular.