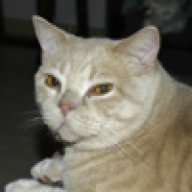 Joined

May 29, 2013
Messages

136
We found a strange picture in one issue of the Blue Mountain Shadows, a magazine for San Juan County in Utah. Mostly grey, a moonlike crater or something like that.
Some advice was given where to find the big cavity and we tried our luck. Heading west on US 163 from Bluff to Mexican Head we leave pavement at 12S 0612736 4124671, four and a half mile after crossing Comb Ridge. Barren land. Officially we are on San Juan County Road 2351. One and a half mile to a quarry. To find the exit on the opposite side does not work automatically, we had to search.
After the quarry it is no longer a dirt road, it becomes a trail - a rocky one. The rocks seem to be limestone with pretty sharp edges that might be a risk for the tires.
Limestone
Reaching 12S 0612736 4124671 leads us to an intersection, one trail going left, south. This trail is faint, sometimes not easy to see. Th next intersection comes at 12S 0612628 4120283. Again to the left! Half a mile to the south and you are there.
Dry Bayou and Mesa

Dry Bayou is a tremendous rincon of the San Juan River with the usual uprising in the middle. Thats Dry Bayou Mesa as the locels call it. The diameter of the basin is about a mile.
We have a problem! Its late in the afternoon or early in the evening. Sunset is within the next 45 minutes and we are looking westwards exactly into the sun. That makes photography pretty tricky. At home we saw that the sky on some exposures is completely overexposed. No way to save it.
Some additional pictures:
My wife sitting at the rim.
After a while we drive farther south reaching the rim of the San Juan River Canyon.
San Juan River Canyon
Geology is pretty the same as at the Gossenecks some miles away.
Southern cape at the rincon
San Juan River Canyon
There must have been a pretty tight neck at the time the loop was still existing
Southern half of the rincon
Central peak
Bear Ears - 30 Miles to the north
My wife shows the trail to me
Looking south over the river onto Comb Ridge
Another Gooseneck
Short before sunset from the north
We use another trail go go back to US 163. There is a spur on the north rim of the rincon. It is on the USGS Topo Maps but our track recordings shows us that we lost the trail. Nevertheless we reached the paved road at 12S 0609736 4122998.
Featured image for home page: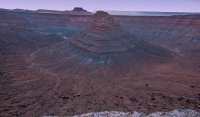 Last edited: