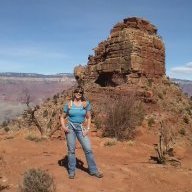 Joined

Oct 1, 2012
Messages

957
I decided to post a trip report after all, even though the trip was brief, because who hasn't wanted to hit the road at the drop of a hat? I had resigned myself to missing the Southwest monsoon season because it just wasn't in the budget. I'd already been to Utah 3 times this year and have a trip to Kauai coming up, so I decided to be financially responsible, which I usually am not. Then a woman in my office that I've known for 14 years got diagnosed with cancer. Not only that, but it has spread to her liver and lungs. She's only 8 days older than me. The next day (Friday) I saw that there was a 70% chance of thunderstorms at the Grand Canyon, but I would only have one day there. F@%$ financial responsibility! I packed my stuff, got the last campsite at the canyon, and hit the road 18 hours later.
I was envisioning dark clouds and dramatic storm light with lightning bolts in the canyon. And I did see conditions like that, but it was on the I-40. I was 2 hours away so I hurried to the canyon. Once there the sky was overcast and it was lightly raining, no lightning anywhere. It took a long time to get there because of a traffic accident so I set up my tent and slept with the sound of rain. I got up to see the sunset, but it was totally overcast. Nothing to do except take moody layered shots. Even the worst photography conditions are still better than being at work:
As I drove to get breakfast this elk was posing by the side of the road. He was more used to being photographed than a supermodel. He walked around showing off his impressive rack (like any supermodel would) while photographers followed him around:
The day continued to get grayer, and rainier. Not a bolt in sight. I packed up camp and drove to various points on the East Rim, but the canyon only got foggier until it was completely obliterated. It was like the Grand Canyon had been moved to Seattle. I couldn't even tell it was there. Usually I'd go for a hike when I can't shoot, but with visibility this bad there was no way I was going to hike down a trail with drop-offs. I waited for 6 hours or so, until finally the skies started to clear. Sort of. But at least I could shoot. The canyon would clear, then fill with fog in a matter of seconds. I missed some shots because in the time it took to set up a tripod the canyon would fill with fog. I started at Moran Point:
Another moody B&W:
I was seriously tired by this point, having not slept that well or eaten much, but I decided to swing by Grandview Point to see what was happening there. Glad I did-by now the late afternoon light was starting to really get good. But there was no way I could do justice to any of it. I did my usual strum und drang, feeling like I couldn't shoot worth $h!+. The Grand Canyon does that to me, but I still kept trying:
As I was packing up, dead tired and not thinking straight, I met a guy who shoots for Arizona Highways and he showed me a few of his shots. Wow, did I feel like an amateur after seeing what he got! He was perfectly nice, not show-offy at all, but I just wasn't in the right frame of mind. He told me he was sure thunderstorms were building, but all I wanted was to get to my room and sleep. I had a 9 hour drive the next day. As I drove to Williams a massive electrical storm was over the plateau. Lightning was hitting all around me, but I was just too tired to shoot. Next year!
So would I do it again? Probably not for that short a time period. I felt too rushed to really think about what I was shooting. And while the trip really didn't cost that much (gas being unusually cheap for summer helped), I wrapped my bumper around a concrete post at a gas station

. Trip cost-about $350. Cost to fix the bumper: $820.
But I'd been jonesing all summer to get to the Southwest and I got it out of my system. This should tide me over until I go back in the fall for 10 days.
As always, please let me know which photos you think work and which ones don't. All feedback appreciated, I experimented on a few.
Featured image for home page: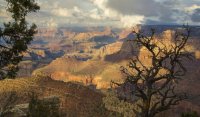 Last edited: