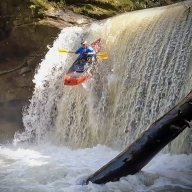 Joined

May 3, 2013
Messages

551
This high-altitude plateau is more reminiscent of Maine, not the Mid-Atlantic. Open meadows and bogs, big views, deep forests and cascading creeks make this a backpacking wonderland. I missed peak colors by less than a week thanks to the last dying gasps of Hurricane Delta but it was still magical. Wild, wonderful West Virginia.
Unique history here. The Sods have been logged, grazed and even bombed.
From the Forest Service...
"Beginning in August of 1943, the military used the area for maneuvers and mountain training for World War II. Many of the artillery and mortar shells shot into the area for practice still exist. In 1997, a highly trained crew surveyed the trail locations and known campsites for shells. They found 15, some of which were still live. All were exploded on site. Many more may exist and they are dangerous."
Good times!
I changed up my route at the last minute, and I'm glad I did. Instead of the 20 mile loop starting at Bear Rocks, I decided to basecamp up near Lions Head for two nights for expansive views and more relaxing, less humping around a big pack. What views they were! The colors were still spectacular. I had it to myself on the first day and night, then...the place exploded. Not literally due to unexploded ordnance, but with people. I lost count after 30 backpackers on a 7 mile day hike loop from camp...on a Wednesday.
Everyone was very friendly, but I decided to hastily pack up camp and hiked down to the confluence of Big Stonecoal Creek and Red Creek. Found a nice camp and enjoyed some solitude for the night after a very social day.
Confluence. Red Creek on the right, Big Stonecoal left
Red Creek is typically a shallow crossing this late in the season, but not on this day. Almost waist deep, glad I threw in water shoes.
Parts of Big Stonecoal Trail were like a pack of Skittles
Lots of campsites scattered thru the pines near Lions Head
Lions Head is an area of rocky outcrops with great views
The next day I connected some trails for a 7 mile loop...
Lunch break on Big Stonecoal Creek
I returned to Lions Head and packed up, hiking 2 miles to the confluence of Red and Big Stonecoal Creeks. Campsite for the second night didn't suck either.
Gotta catch the Milky Way early this late in the season here. This was taken at 9:30pm. Red Creek in the foreground.