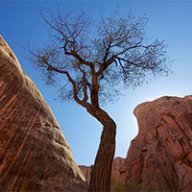 Joined

Aug 9, 2007
Messages

12,737
Lately I've been thinking that I need to figure out a better way to eat natural, healthy foods while I'm on backpacking trips. Since real paleo backpacking food is pretty much impossible to come by, I've been going stove-less and sticking with Lara Bars, homemade jerky, nuts, etc. The problem with all that is that it's kind of hard to eat for more than a few days, at least for me. It's also hard to eat a full meals worth of it at once, so when others sit down and eat a meal, I'm just struggling to eat another piece of dry meat. Not ideal. Whether or not the meal is warm is one thing but having sort of a 'gut bomb' after a long day of hiking is awesome.
So I decided to try dehydrating some leftovers and then cooking it back up to see how it went. Granted, most of you probably don't care if there is gluten, sugar or other unpronounceable stuff in your food so this might not be worth it to you. Or maybe it will since it's so much cheaper than buying freeze dried meals like Mountain House.
Either way, I thought I'd share my experience and I plan to post other DIY dehydrated backpacking food recipes as I try them. Here's the first.
I started with some leftovers from Audra's Unstuffed Peppers recipe. It's basically just like stuffed peppers but instead of leaving the peppers whole, we chop them up. It's not as pretty as stuffed peppers but it tastes great and you don't have to figure out how to eat it! And for us it's great because there are no funny ingredients and we can make it with good, grass-fed, non-hormone-fed beef.
I put 16 ounces of the leftovers onto the fruit rollup tray in my food dehydrator.
I set it to 145 degrees and let it run for about 7 hours. I meant to pull it at 6 but forgot. It was nice and dry when I finally turned it off. About half way through, I flipped things over and broke up any big chunks to help them dry thoroughly.
Once dry and bagged up, my 16 ounce serving of Unstuffed Peppers was a mere 4 ounces. I weighed it before and after so I would know how much water I needed to add back in later.
The next day, I got the dried meal out and cooked it up for dinner. That dried beef looks delicious, eh!
I was just going to dump boiling water on it, stir and then let it sit for 15 minutes or so but I decided I'd actually put it into boiling water for a bit. I added 12 ounces of water to bring the total serving back up to it's original 16 oz weight.
I boiled it for about 4 minutes and then turned it off and let it sit for another 10 or 12.
The finished product, rehydrated and ready to eat.
Closer view of the texture. The meat was not tough at all, nice and tender. My only complaint was that it had a very slight burnt taste but not so much that it wasn't still thoroughly enjoyable, especially if I were in the backcountry.
For comparison, I reheated a bowl of the real dish that had not been dehydrated. As you can see, the peppers are a lot bigger and juicier and the meat chunks were larger but overall, the two were very close. This pic is of the undehydrated product:
So far I know that I need to pick dishes with small parts in them. By that I mean no beef stew or other foods with large chunks. Now to come up with some other good paleo meals that fit the bill.