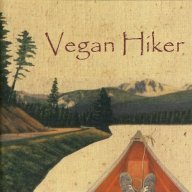 Joined

Jul 5, 2014
Messages

2,094
Zion National Park, UT and the North Rim, AZ
June 25th-30th, 2015
I normally prefer to travel solo on my hiking trips with the main exception being when my wife is able to join me. So when Tyne said her work schedule would allow her 5 days to hike with me this June, I jumped at the opportunity to plan something special. I had planned to backpack the Lost Coast Trail in CA that month but she said that she would rather visit the southwest since she had never seen the desert. I hadn't either so it didn't take any convincing for me to go that route. We initially decided to hike Zion and Bryce Canyon but when I couldn't find campsite availability around Bryce a week before the trip, I threw a hail mary and searched the NPS online reservation system for availability at the North Rim Campground for those dates; no doubt a pointless act of desperation born out of frustration for having left half the planning until last minute. I realized the hiking Gods were smiling upon me when the system showed a single site available for those 2 dates. How was this possible? These reservations fill up the day they become available 6 months in advance and not a single other site was available for months before or after my requested dates. Without hesitation I reserved the site and called the North Rim Visitor Center to make sure there wasn't a gaggle of rangers laughing about a cruel joke they had just played on the reservation system. The ranger told me that they can see the reservation system live on their end and that there must have just been a cancellation for those exact dates just moments before I searched. He said that when there is a cancellation, they typically fill back up within 30 seconds.
So our plans were now set to spend 2 ½ days at Zion and 2 ½ days at the North Rim. With Tyne joining me I planned for the trip to include more frontcountry amenities than if I was traveling alone. It's always important to me that my wife has a great time. Besides, I can always hike around stinky in the same underwear for days on end on my solo trips.
Day 1
–
Flight to St. George and Angels Landing
On our first day, we woke at 3:30 am to drive into NYC and catch our 6:30 am flight to St. George. After a 2 hour delay at our layover in Denver, we didn't arrive into St. George until around 3:30. We drove to Springdale and checked into our room at the Desert Pearl. A really beautiful hotel with a pool that we wished we had the time to take advantage of. We rushed to throw our bags into the room, quickly load our packs, get our Narrows backcountry permit for the next day, then shuttle to hike Angels Landing before running out of daylight. We finally made it to the trailhead a little before 6:00 pm. The positive was that it had cooled down since earlier in the day and there really weren't too many people on the trail considering its popularity. The downside is that we finished around 9:00 pm as the sun went down, meaning it was 11:00 pm according to our body's clocks; a long day considering we awoke at 3:30 am.
Okay so I must say, seeing stuff like Zion is probably "just another day" type of a deal for the majority of BCP members. However, being from New Jersey and never having seen this type of terrain except for in trip report pics on BCP, I was stricken into a state of pure wonderment. It felt like we were hiking on Mars. In fact, when we landed we joked that we would have been satisfied spending an exotic 5 days camped out at the St. George Airport. To say we were wide-eyed and dumbstruck would be an understatement.
Some pictures from day 1
I believe that's the West Rim Trail above Tyne's head
Day 2
–
The Narrows top down part 1
After grabbing breakfast in Springdale we took our 9:30 am shuttle to Chamberlain's ranch for the start of our Narrows top down thru-hike. The shuttle ride was a scenic hour and a half drive and we had some enjoyable conversation with a group of hikers from California on the ride. Our backcountry permit was for site #7 which meant we had about a 10 miles to hike before reaching our site. This was a pretty awesome day as we became more and more astonished as the canyon closed around us and the walls grew. Except for leapfrogging the California group once, we didn't see any other hikers the entire day. Our heads were on swivels as we marveled at the ever-changing beauty around us. We went at a leisurely pace, took some breaks to relax, eat, and swim, and made it to our site around 6:00 pm.
Some pictures from day 2
Before Tyne woke up, I tried to catch the sunrise in the field behind the Museum of Human History.
Chamberlain's Ranch at the start of the Narrows thru-hike
Dandelions don't grow nearly this big in New Jersey. They only get the size of a quarter around us.
Tyne really adds some scale to this picture below
There were a few spots where we had to climb through a log jam
When you approach these falls, you approach from the top. I knew from my guide books that there was a route to get down around the side which was hidden from view. I had some fun with Tyne and said "these must be the falls that we have to jump down". I played it well and she bought it. After a minute or two of watching her sweat it out with a terrified look I told her I was messing with her.
A shot taken shortly before we arrived at our campsite (campsite #7)
Campsite #7
Day 3
–
The Narrows part 2, Drive to the North Rim, Transept Trail to Bright Angel Point
We got an early start from campsite #7 to finish up the last 7 miles of the Narrows. We wanted to beat the crowds of bottom up day hikers (an unrealistic expectation we learned) and needed to do the 3 hour drive through Zion to the North Rim where we would set up camp, do some light hiking before sundown, and make it to our 8:30 pm dinner reservation at the Grand Canyon Lodge. After just 24 hours of solitude along the Virgin River, it was quite jarring to see the massive crowds congregating near the lower portion of the Narrows. We live right outside of New York City and I was in Time Square about 2 weeks before this trip, so it says something that we were a bit taken back. It was still gorgeous and we made it to Big Spring before running into anyone but once we were immersed in the crowd it began looking forward to making it out to embark on the next part of our journey. Once we finished, we showered at the pay showers near the Visitor's Center, ate lunch in Springdale before setting out on our drive to the North Rim. It was a beautifully scenic drive which entailed driving through Zion NP, the Kaibab National Forest, and Grand Canyon National Park. We stopped several times throughout to soak in the scenery and take some pictures. As we neared the North Rim, we could feel the temps start to drop as the elevation rose and the topography transitioned from desert to decidedly alpine forest. After checking in to the North Rim Campground around 5:30 pm we set up camp and hiked the Transept Trail which began on the rim about 100 yards away from our campsite and hiked 1.5 miles to Bright Angel Point near the Grand Canyon Lodge. We made it to the point as the sun was setting and had just enough time to explore a little before our 8:30 pm dinner reservation at the lodge.
Some pictures from day 3
Big Spring - Took some pictures and went for a dip
Shortly after this picture was taken we started running into the crowds of people hiking the bottom up so I didn't bother taking pictures
Pictures taken driving through Zion on our way to the North Rim
I immediately recognized Checkerboard Mesa from
@ram
's canyoneering trip report.
When we arrived at the North Rim campground it was time to switch gears and leave the backpacking tent in the car and break out the palatial car camping tent. The trusty old Coleman.
After setting up camp we caught the trailhead to the Transept Trail about 100 yards from our campsite. It was here that I got my very first view of the Grand Canyon (below).
We arrived Grand Canyon Lodge as the sun was setting. It sits on the edge of the North Rim.
We continued past the lodge for now and took the paved path to watch the sunset from Bright Angel Point.
We returned to the lodge for our 8:30 dinner reservation.
Day 4
–
Cape Royal Scenic Drive and the Cape Final Trail
On this day we took it pretty easy. We drove to the lodge for breakfast around 7:00 am before doing the scenic drive on the Cape Royal Scenic Road which is about 23 miles long each way. Along the route there were several lookouts at which we planned on stopping to check out. Some of the stops had short trails which we explored as well. We also hiked to Cape Final which was a 4 mile hike that led through some beautiful forest and past colorful flowering cacti and wildflowers to some additional great lookouts. Once back on the road, the scenic road ends at Cape Royal which has a 0.6 mile round trip walkway out onto a point along a paved path with some awesome views. The day started off hazy but the sky cleared up quickly as the early morning hours passed. We brought a packed lunch and took a lunch break along the way at the Walhalla overlook. We ended up making it back just in time for our 5:30 dinner reservation. After dinner we grabbed a few drinks from the saloon and watched the sunset from the lodge terrace. After the sunset, we went back to our campsite and relaxed around a campfire before hitting the sack.
Some pics from day 4
As we arrived back at the lodge for breakfast the sun was striking the canyon walls.
Terrible pic but the view from breakfast was pretty awesome.
Before we got going someone was nice enough to take our picture for us out on the terrace.
A quick stop to check out the Visitor's Center before heading out on Cape Royal Scenic Drive.
First stop; Point Imperial, the highest point on the Grand Canyon at over 8,800 feet.
Vista Encantada
Roosevelt Point
Hiking the Cape Final Trail
One of my favorite things about the Cape Final Trail was that there were tons of flowering cacti and wildflowers.
Walhalla Overlook and a break for lunch.
Cape Royal. You can see it raining all the way over on the South Rim in this picture. Ended up coming back to this spot to watch the sunrise the next morning.
Back at the lodge later that night we had some drinks on the terrace before finding a secluded spot on some stone steps leading to the underside of the lodge. I only took this one pic as it was time to just relax with my wife as we watched the sun go down.
Day 5
–
The Uncle Jim Trail and the North Kaibab Trail
On our last full day of our trip we broke down camp, grabbed some breakfast back at the lodge again and drove to the Kaibab trailhead parking lot. The trailheads for both of our final two hikes were located at this parking lot which was convenient. First we hiked the Uncle Jim Trail which is a 5.4 mile loop. Immediately after finishing the Uncle Jim Trail we hiked the North Kaibab Trail which descends down from the rim to the Colorado River and is the trail used for the northern half of Rim to Rim hikes. We only hiked down to Coconino Overlook and back which was an additional 1.5 miles. We debated going further down below the rim but the next notable feature (Roaring Springs) was several miles away and we still had to make the long drive to St. George where we would be spending the night before our early flight the next morning. We stayed at a hotel in St. George called the Inn on the Cliff which had a nice view overlooking the city and the Dixie National Forest. After checking in, we went to dinner in St. George and got back in time to watch the sunset from the pool. We splashed around, reminisced about our trip and were sad it was coming to an end.
Some pictures from day 5
On the way back to Cape Royal to catch the sunrise the next morning I took another picture of the tree from the day before.
The sun starting to hit the canyon walls at Cape Royal
Sections of the Uncle Jim trail follow closely along the rim.
Uncle Jim Point
Hiking down the North Kaibab Trail to Coconino Overlook
As you can see we didn't make it too far below the rim. I'd like to eventually make it back to do more exploring below the rim and get closer to the Colorado.
Driving back to St. George.
View from our balcony of our hotel room in St. George. We drove past the Dixie National Forest which can be seen off in the distance in the pic below. It looked like it would be a pretty sweet spot to hike but I've never heard any mention of it on BCP though, why is that?
I really loved this trip and it left me wanting more. I left with a strong desire to come back to the Grand Canyon and do more hiking below the rim. I'm glad we visited the North Rim which was not very crowded at all (I read that 95% of visitors to the Grand Canyon visit the South Rim because of it's closer proximity to airports and major cities). I liked that there weren't any packed tourist buses, that there was never any congestion and while the lodge was always hopping, it never felt "too" busy. I loved Zion equally as much and look forward to returning some day to southern Utah to see Bryce Canyon as well as some of the other hiking areas I've learned about on BCP. It was really cool to see so many signs for places that I recognized both from BCP trip reports. I'd like to also give a big thanks also to all the guys on here that offered advice and answered my never ending questions during the planning of this trip.
Featured image for home page: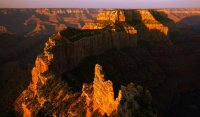 Last edited: