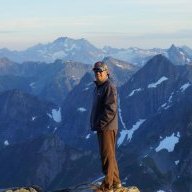 Joined

Feb 10, 2013
Messages

122
In September of 2013, my wife and I, along with my parents, headed up to Alaska for Labor Day week. We rented an RV in Anchorage and drove down the Seward for two days, then to Talkeetna for a couple days, then on to Denali NP for three days. Didn't get to do the backpacking that I had wanted, but we got to hike a little bit and the scenery was wonderful. We happened to hit Denali when the fall colors, which only last about a week or so up there, were at their most brilliant. The only downside was that McKinley stayed hidden in clouds the whole time. But that just gives me a reason to go back. And do some backpacking next time.
As bad as my eyes are, the whole park looked to me like an impressionist painting.
Teklanika River, which Chris McCandless couldn't cross. The Stampede Trail, where he found his bus, is a few miles downstream (behind) this picture.
And of course, the obligatory grizzly photo. We saw several every day. Because their diet consists largely of berries, they don't get as big as the ones down in Katmai.
Featured image for home page: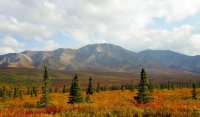 Last edited: