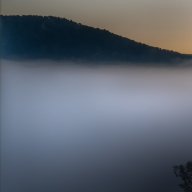 Joined

May 19, 2012
Messages

1,970
Last weekend my friend Mike and I decided to skip town and explore a small side canyon just to the south of the Main fork of Deer Canyon, which empties into Grand Gulch down from the Government trail.
I had used the main fork of Deer Canyon as an exit route 10 years ago, as a friend and I had accessed Grand Gulch via the Government trail to explore down canyon past Collins Spring, but we got caught in a rain storm for a day and a half, and never reached Collins Spring as the river was rising (we got pretty tired and cold crossing the stream every 15 minutes). So we exited at Deer Canyon and made our way back to our car at the Government trailhead, completing a pretty cool accidental loop hike.
So anyway, this time I decided to do this little canyon with a car camp, as we are out of shape and wanted something mellow. We drove past the last turn off to Government trail on Slickhorn Road, maybe a mile, and car camped. The weather was cloudy and gloomy that first night, cleared in the middle of the night then clouded up again at sunrise. We started our day hike after a leisurely breakfast, working our way down a small side canyon at the head of our intended route.
A view of our camp site, with the small side canyon just beyond:
A few views from a wake up hike before breakfast (Slickhorn Road is visible extending to the horizon, looking east):
Our route skirted the little side canyon to the left, then down into the main canyon:
We soon found this small ruin, an easy walk up from the bottom of the canyon. We found many pot shards, many of them undisturbed just laying about, although these appeared to have been uncovered but not placed, so we were very careful as to where we walked:
We then started hiking on the shelf above the canyon bottom, really enjoying the rock formations:
The highlight of the trip was discovering some pot shards high up on a shelf, just laying about, undisturbed for the last 800 years or so. They certainly did not appear to be placed there or on display (the largest piece to the right was about 4" across):
We continued down for a few leisurely hours, the walking easy with no obstacles, until we reached the pour off into the main fork of Deer Canyon, the one I had ventured up a decade ago.
This was a fun little hike (maybe 6 miles round trip), and I believe it can be extended into the main canyon below by exiting before the pour off to the right LDC (but I am not sure about this). We wanted to day hike into the Hat Flat area to the south of our car camp the next day, but it started to rain. For another day.....
Featured image for home page: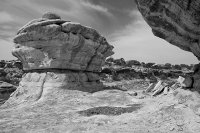 Last edited: