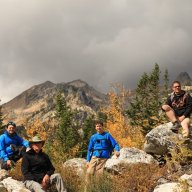 Joined

Aug 21, 2018
Messages

384
Having recently joined the forum a lot of my adventures will have a past tense vibe to them. I felt compelled to contribute at least one trip report -- this one is more of a Day Hike but still provided some nice scenery.
A couple years back the Mrs. and I had an epic road trip planned that was cancelled due to wildfires closing our accommodations around Yellowstone. As a consolation we booked a last minute flight into San Francisco in September (2016 -- hopefully backtracking this far does not break any forum rules!). She wanted to do some sightseeing in the city but also joined me for a couple days in Yosemite. One of our days focused on the Panorama Trail from Glacier Point down to the valley floor. I will admit that we took the bus up to Glacier Point vs. hiking up -- our time was somewhat limited due to staying outside the park with last minute lodging.
Glacier Point was busy as always; smoke from wildfires provided a somewhat hazy view.
Moving away from the overlook and down the Panorama Trail the people disappeared and some of the smoke started to dissipate as well.
A little farther along and you can make out Nevada and Vernal Falls -- destinations for later in the day.
Initially the trail is easy going and downhill. . .
But that would change once we passed Illilouette Falls -- a moderate climb is in store on the way to Nevada Fall. Part of the trail is sort of visible on the left side in the foreground.
A closer view of Illilouette Falls and a better view of the trail above. Somewhere along that stretch of trail is Panorama Point.
The views were outstanding; enough smoke had cleared during the day to allow good visibility.
A controlled burn was actually taking place in the valley below.
The trail leveled out a bit on the way to Nevada Fall.
We came across two to three people on the trail the entire day up to this point. It was very pleasant and peaceful. That changed when we arrived at Nevada Fall -- picnickers and sunbathers everywhere. After resting our legs for a bit we headed off and soon had the trail to ourselves again.
We took the Mist Trail along side Vernal Falls the rest of the way down. The falls were but a trickle and influenced by a strong breeze.
From here it was a lot of stairs and an easy path back.
Not an epic adventure by any means but it was a great way to spend an afternoon. I hope to have more substantial reports forthcoming
.