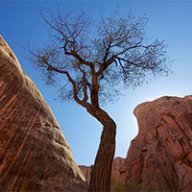 Joined

Aug 9, 2007
Messages

12,939
Sleeping bag
- Check
Water filter
- Check
Trekking poles
- Check
Paddle
- Check
Wait.
What
?
For several years I've watched as many of you have wowed us with your packrafting adventures. I pretty much left it on my "I'd love to,
but
..." list.
But
who would I go with? Most of my friends don't have one.
But
what if I couldn't time the river flows right?
But
they're so expensive!
But then
Kokopelli
, a relatively new packraft company went and made me not completely hate post-Thanksgiving shopping. They put all of their already less-expensive-than-most packrafts up on a buy one get one free deal for just one weekend. I went searching for a friend to go in on one with me. Not only did I find that one friend, I found about 8 others. Time to start planning!
I immediately gravitated toward the idea of descending the Sundance Trail through Dark Canyon, then float the Colorado River through Cataract and Narrow Canyons to Hite. In the heyday of Lake Powell, this would not be something to even consider. The reservoir used to reach up into Dark Canyon and well beyond in Cataract Canyon. But today, with Lake Powell in decline, the river flows freely not only through Cataract and Narrow Canyons, but on past Hite and all the way down to Farley and White Canyons in Glen Canyon. I searched but couldn't find any accounts of others doing it. The thought of rapids in lower Cataract made me a bit nervous. I wish I knew more rafters, they'd know. I checked my Canyonlands river map and it looked clear downstream from Dark. Let's do this.
As our mid-April dates came closer, I learned of the Glen Canyon Institute's plan to have a 20th Anniversary Celebration by floating from Hite to Farley Canyon and then camping as a big group for a night. It was an easy decision to bump our dates back a week. The plan now was to float from Dark Canyon to Hite, rendezvous with the GCI group, then continue floating to Farley.
The weather was beautiful the night before we set out. We picked up Jen at the airport and zipped down to a nice spot south of Hanksville to spend the night. It took us a while to get going in the morning, but it's okay, we only had a 3.5 mile hike in, from what I'd read.
We dropped of a car at Hite and navigated the maze of dirt roads out to the Sundance Trailhead. It was 2pm before we were walking down the old, closed dirt road. There was no wind and the temperatures were in the mid-80's. Hot for this time of year. As I slogged down the road, I kept reminding myself how much I'll miss this when we're getting hit by ~20 mph winds and cooler temps on Saturday.
An early view of the infamous Sundance Trail. Walking down 1400 feet of talus is hard to comprehend, even when you're standing there looking at it.
Aside from my endurance being way down, going downhill is still very difficult on my new knee. This little drop on the way to the Sundance got my anxiety up. I've heard so many varying accounts of how bad it is. If it were 1400 feet of this, I'd be in trouble. Or at the very least, I'd be wearing ass-less shorts by the time I got to the bottom.
F&*king photographers!
@neiloro
has no problems getting down and dirty for a claret cup bloom, even with a ridiculously heavy pack on.
The top of the Sundance. Everyone look scared! Dave is the only one who came close to at least looking like it. It's hard to imagine a trail looking down from the top of that.
Starting down the Sundance Trail
We were running really low on water before we even started down the trail. Staring down at those distant cottonwoods made me dream of a gravity filter hanging from one of them while I laid in powder soft sand staring up at the sky. But for now, my focus was staying upright and getting down.
We'd go and go and it felt like we were still so high.
Fortunately, we were in the shade much of the time. Sage was even getting pretty tired.
Almost to the bottom, looking back up to the top.
Down and way out of water. Just a short walk to the river now, except for a few dozen boulder piles to crawl through.
We made it into camp shortly before dark. I pounded about 3 liters of fresh water from the creek. The GPS read much closer to 5 miles than the stated 3.5. Dinner consisted of some cheese, Jen's leftovers and whiskey. The full moon came up and lit up our campsite. It was a magically beautiful night. Everyone else sacked out and I laid there on the tarp watching the cottonwood leaves shimmer in the moonlight. Priceless.
The next morning our campsite was just as beautiful as the night before. We were in no rush, just about 4 miles to the river, or so I'd read.
It was hard to move very fast through here. It was just too beautiful.
The river begins cutting into a new layer. I'd heard there were some sketchy ledges that I was not particularly looking forward to.
The first, and perhaps sketchiest ledge. I didn't get a good photo actually up on it, but it was quite narrow with nothing really to hold on to. Even narrower when you're a big guy like me. Not a ton of exposure, but enough to make for a really, really bad day.
From there the trail just kept going up as the river kept going down. We were at least 200 feet up from it in a few spots. Maybe more.
After running out of water yesterday, I was stoked to only carry a liter and filter as needed. The long bypass made me miss the river as I started running low again. Looking down canyon, it was hard to imagine how we'd get back in.
But soon enough, a steep, rocky gully let us back in with a few little spots of 4th class. Or maybe they just felt like 4th class with that heavy backpack on. We stopped for lunch and I soaked.
And now we get to walk in that amazing canyon bottom we'd been admiring from above. I don't know any of these layers like I know the usual Colorado Plateau geology. All I know, is that when silver-blue gives way to white, cool stuff happens.
Love it.
Time for the packrafts?
There were no cairns here, but we found an easy route around on the left (LDC). The double waterfall was very nice from this angle.
Further down, another short bypass and more intensely beautiful scenery. We were in the shadows now and the light was fantastic.
The moment
@ashergrey
decided he could no longer keep his shoes dry. I was shocked he had made it that far.
The last, and next scariest bypass trail. I'm guessing 100+ feet up from the river. At the time my guesstimates were like twice that, but you know how that goes.
I was not a fan of crawling under the boulder. I'm too tall so I just got down on all fours through there.
The canyon bottom is well below the high water mark of Lake Powell here, as well as the previous three photos.
Dave's happy face.
Our bypass trail seemed to be fizzling so we scouted a route down a side drainage. It was all a piece of cake except for the 'leap of faith'. Not as bad as it looked (much worse from other angles) thanks to a good handhold.
A gloriously restored section of Dark Canyon, once below the waters of Lake Powell.
Dark Canyon rising!
We talked to a couple heading back up the canyon who had mentioned that there were no good campsites lower in the canyon. I'm sure they didn't realize we planned to float the river. But all of our meandering and photo taking had left us shy on time. We talked about stopping at an okay spot a half hour from the river, then waking up and heading down in the morning. We figured it would be 6 or 630 by the time we got to the river, and then we'd still have to inflate rafts, fetch water and get all ready to float. Sunset was at 8, and our satellite scouting of potential campsites on the Colorado looked iffy at best. Blindly floating down the Colorado at night didn't sound like a good idea. There was a nearly full moon, but it wouldn't touch the canyon bottom until well into the night. What to do....
We decided to risk it and head for the river. There must be at least a crappy spot to sleep, we thought. But as we approached, we saw the true carnage of Lake Powell. Walls of silt 30 feet high on each side of the creek. It looked like bulldozers have been back and forth in there days earlier. This is purely hypothesis, but I believe that much of the silt in the lower section of Dark Canyon was actually deposited by the Colorado, not floods in Dark Canyon. As the river would rush into the upper reservoir, I think it would send it swirling into the side canyons in copious amounts. You can see it in upper Lake Powell today. The side canyons get just as muddy as the main channel when the runoff hits. Regardless, it was a sad sight to see.
We rounded one last bend to see the Colorado River swirling in the distance, but no place to camp at all. We could walk back up canyon a half hour, or we could get to work and get on the river. It was 5:47 PM. We decided to float.
It took us a solid hour to get everything ready to go. The sun was already down out on the river. None of us had done this before. None of us really knew what to expect from the Colorado. We had one hour until sunset. Time to find a camp.
It was so good. We got out onto the river and down into the sun. The light, the scenery, the feeling of victory. We're doing this! Ahhh, man. It was too good.
@colefeet
and
@ashergrey
up front and
@neiloro
in the distance.
We saw some spots that we could have made work, but they sucked, so we kept going a bit further.
We almost missed this great spot because we weren't close enough to shore, but with a bit of extra paddling, we found home for the night.
Jen and I hold down the tarp while the guys work on water. Cataract Canyon!! Such a great night.
We knew wind was in the forecast the next day, so we woke up at 6am to get going. Last we checked it would really hit in the afternoon. I'd seen 20mph on the forecast but it wasn't close enough when we left to mention gusts. The day started out with a serene morning float through Cataract.
I was in such a state of bliss drifting down that river. So much that I was getting out my iPhone to listen to the tune I had stuck in my head. But then I looked over and saw what looked like some pretty serious riffles ahead. Maybe even some minor rapids. Hard to tell when you're that low to the river. I rolled up my dry bag and got ready for it.
As we approached the riffles, a stiff gust of wind punched me in the face. It didn't stop. All of the sudden we were getting totally pounded. All we could do was paddle as hard as we could to stay upright and pointed forward into the wind. If we were lucky, we'd say in one place or move forward in tiny spurts. If not, we'd just be blowing back up the river. Giant car-sized clusters of tumbleweeds, likely caught in the bushes for some time, came flying up into the air. Many landing in the river around us, creating tumbleweed flotillas. We would have been doing good to latch onto one and let it pull us down the river.
The gusts would strengthen and weaken, but the wind stayed very strong. I learned later that the forecast was for 55+ mph gusts. I have no doubt we experienced that and more. After what seems like an eternity of paddling into the wind, we stopped at a nice, sandy beach near the mouth of Sheep Canyon, right in the middle of Mille Crag Bend. Also the spot where Cataract Canyon ends and Narrow Canyon begins.
It all seemed like a good idea, until we were reminded how fun it is to sit on a sandy beach with huge wind gusts.
@neiloro
had the right idea. He ate lunch out on a pile of flood debris, up and away from the sand.
At this point we knew we wouldn't be making it to Hite in time to meet up with the GCI float. Honestly, at this point I was just hoping we could get out that day. Back in the boats and down the river we go. The sky became completely overcast and the wind went away for a good 5 or 10 minutes as we finished the float around Mille Crag Bend. Then it came back with a vengeance, again and again and again. For the third day in a row, shit got kind of scary. Those gusts almost knocked me out of my boat a couple of times. If that had happened, I think the boat would have blown right up the river and me and Sage would have been washed quickly downstream (now out of the wind). The rest of the group would have no choice but to watch as they fought through the gusts. Sometimes there was a place to get out, but not always. It was seriously intense.
A short break between the gusts let me get my camera out. I'm sad that I hardly got any photos in Cataract and Narrow Canyons.
You can see two of our group way up the river here. Dave and I were eddied out waiting for them.
It's not supposed to be at all, but after all of that wind and chaos, this bridge was a welcome sight. Only a couple more miles to Hite.
We made it to Hite at 1:30, just in time to see the last of the GCI floaters head down river. After what we'd been through I was surprised anyone got on the river at all. But maybe it was worse in the narrow canyons upstream? We had one last HUGE gust just as Jen and I tried to paddle the last 10 feet to the shore at Hite. Jen was over there making a sailor's language seem tame and I eventually just said f*&k it and hopped out of my raft into the River. The big gusts came one or two more times and then the wind slowly died and never came back. Part of me was pissed because we could have just sat it out, despite what I thought would happen. But it was really fantastic because it meant no wind for the GCI Rendezvous that night.
After picking up my truck at the Sundance TH, Dave left us and the three of us went and found a place to camp with the big group in Farley Canyon. I was so excited to see and meet Katie Lee at this event, but she couldn't make it due to health issues. She is pushing 100 after all.
Fortunately, the wind didn't stop a whole lot of great folks from still coming. We gathered below the high water mark to listen to Gary Wockner, Rich Ingebretsen and some others. Afterward, GCI and volunteers fed us great food while a really great SLC-area band called the Steel Belts played around the campfire. Even after most everyone had gone to bed, a dozen of us were still there around the fire and they came and played another set. Guitars, a banjo and a violin next to a campfire. What else do you need? What a great night. I hope GCI makes it an annual event.
It was a fantastic way to top off an epic trip. During the trip, I thought to myself quite a few times "this route is amazing, but I'm never doing it again". Now that I'm home, I'm shopping for a properly sized packraft so I can go do it again, this time with more time to explore in Dark and more time to enjoy a tranquil Colorado River.
I had a hard time cutting down the number of photos in this trip report. If you want to see the rest, the full album is available here:
https://goo.gl/photos/bsGk7yPzGnYgt6TQ7