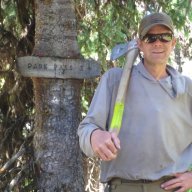 Joined

Feb 11, 2018
Messages

16
Hey All,
We are looking to do Dark Canyon up and over to Gypsum Canyon. Then down to Cataract and packraft back to Dark. We have almost two weeks to explore so time is good. I'm a newbie packrafter but not to canyon country. That said I'm hoping for a non-technical route (4th class or 5.0ish at most, we will have 50' of 8mm but that's it). My wife and my dog will be with me. I have a few route questions:
1. What is the river like from Gypsum down to Dark Canyon? Rapids?
2. Can we get down to the river from Gypsum and back up Dark with the river being so low?
3. What is the "Powell Route" in Gypsum?
4. I've been hearing about "Allen's Book" does anyone have a link to it?
We did The Maze last year and are looking for another adventure.
Thanks in advance! I'll post a report when we get back in April.
Gregg