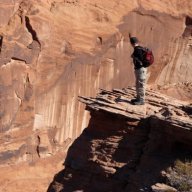 Joined

Jun 16, 2012
Messages

1,487
Over the weekend of April 19, 2013, I decided to join this year's trend of BCPers hiking Coyote Gulch. I had one friend driving in from Denver who had never been to southern Utah, and another friend flying in from South Carolina. I had debated doing something less popular, but after a scouting overnighter in Robber's Roost Canyon, I decided to take them to Coyote Gulch. The friend from Denver really wanted to hike a pretty slot canyon, too, so the proximity to Peek-a-boo and Spooky also made this hike appealing.
With an early start on Thursday morning, it was refreshing to have Peek-a-boo and Spooky to ourselves. We passed lots of people as we were hiking out, and these canyons get a lot of traffic, but with an early start, we didn't see another person in the canyons.
From the top of the short scramble up into Peek-a-boo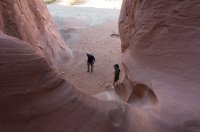 The double arch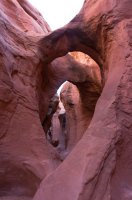 I think he liked the canyon I picked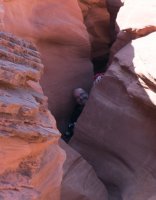 Getting into Spooky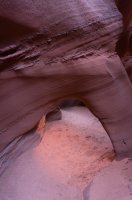 Spooky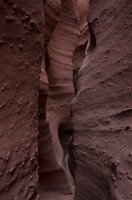 Spooky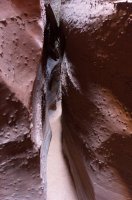 When we returned to the trailhead, we found that my friend from Denver had a flat tire. We had a weird conversation with a guy at the Subway in Escalante before we headed out in the morning, and it made me wonder if the tire guy in town didn't go out and dump nails in the Hole in the Rock Road...but I get paid to be paranoid, so my friend may have just needed new tires.
But he only had a donut, so I was worried about him continuing to drive, so I adapted my hiking plans to do without the shuttle hike I planned to do from Crack in the Wall to Chimney Rock. So we left his car there are Dry Fork and continued out to Crack in the Wall.
Above the Escalante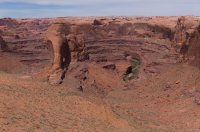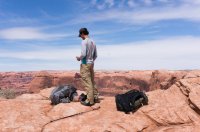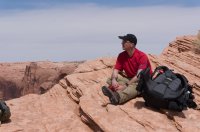 We debated hiking up Stevens Canyon and then backtracking back up Crack in the Wall. But after hiking down the sand ridge, we decided that we really didn't want to hike back up that, so we headed up Coyote Gulch. With our afternoon start, we stopped before we reached the natural bridge. We had a nice campsite and sat out stargazing.
The next day, we continued up canyon.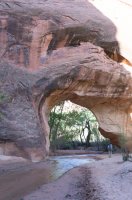 When we reached Jacob Hamblin, we saw the destroyed toilet.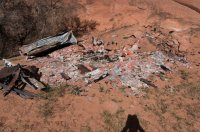 We then refilled our water bottles at the spring besides Jacob Hamblin.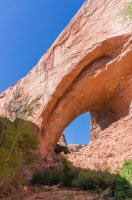 One of my friends has a fear of heights, so the exit at the arch was not an option. However, I had never hiked between JHA and Hurricane Wash, so this stretch of the canyon was new to me. The overhangs and alcoves were really nice.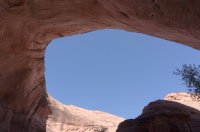 At Hurricane, we turned and headed up Hurricane. After about 3 miles, just after the Park boundary sign, we climbed out of the canyon and made our way up onto the desert floor. I took a bearing straight for the Tank, and we hiked cross-country up 40 Mile Ridge. I thought this hike was good, with a breeze and only 70 degrees, but my friends said they had a rough time with the sun. I'm guessing I've just been acclimated, but I didn't realize it made such a big difference.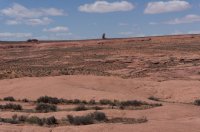 We hit the 40 Mile Ridge Road about half a mile from the Tank, dumped our packs, and started the walk back to the car. After about 5 minutes, though, a nice school group from New Mexico came by and offered me a ride. That was nice.
We had planned on being out two nights, though, so now we needed to entertain ourselves for another day. So we then drove the HTRR all the way to the Hole in the Rock. I had never been past 40 Mile Ridge, so this was nice. All the info I had read about the road said that it became rough a few miles before the end, but the road was in great shape...you could probably drive a sedan all the way to the end.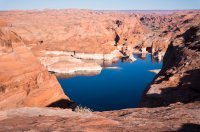 We camped near the Davis Gulch trailhead and then headed back on Sunday morning.
All in all, this was a great trip. Coyote was a little more crowded than I like, but it wasn't too bad. This is a nice hike to take people on who don't want anything too difficult, but want to see some classic Utah scenery. I was glad that my concocted plan to hike out of Hurricane across the desert worked out. This was pretty much just made up after my friend's flat tire and looking at the map and figuring it would probably work.
And I think my friends had a good time...and that's the important part when you're playing tour guide!
Featured image for home page: