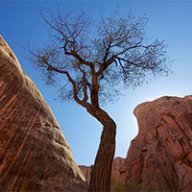 Joined

Aug 9, 2007
Messages

12,940
May 2010
Coyote Gulch, one of the premiere backpacking destinations in the state of Utah. I had always wanted to check it out but no dogs are allowed so for several years I passed it by for the many other dog-friendly canyons in the Grand Staircase-Escalante National Monument. But in May, 2010, a trip was planned, the dogs were left at home and we were off to the monument.
This is a map of the Coyote Gulch loop that we did. It's not an actual GPS track so everything is approximate and it also does not include the hike down to the confluence with the Escalante.
The forecast for the trip looked perfect, just what you would expect for mid-to-late May but we had some storminess for the drive down and the car camp before heading into the Gulch.
Our car camp for the night would be at one of my favorite spots on Hole-in-the-Rock road, about 20 miles away from the start of our hike. It was an interesting drive in the rain, I've never been on Hole-in-the-Rock in anything other than dry conditions.
Fortunately the last of the storm passed just after dark and we had a dry, but very cold night around the campfire.
One of my first attempts at star trails:
In the morning it was pack, pack, pack. It's always a little trickier with 4 people. You don't want to carry more weight than necessary so we coordinated to share as much as possible.
Driving Hole-in-the-Rock road south towards Coyote Gulch
After a little driving we took the turnoff for 40-Mile Ridge, the location of our trailheads. The plan was to drop off the gear at the 40-Mile Water Tank trailhead and then drive the car down to the end of the road at the 40-Mile Ridge Trailhead and either walk the 3 miles back or hitch a ride with someone heading that way. Ethan and I waited at the water tank, it was a beautiful partly cloudy day.
Where 40-Mile Water Tank trailhead gets its name
After about an hour Nate and Taylor were back. They ended up walking about halfway and then got picked up by a Kane County Sheriff's Deputy looking for a man that had been reported missing.
The first day of hiking would prove to be the most strenuous of the entire trip. The plan was to hike overland, using Chimney Rock as our guide, to a point that would allow a descent into Hurricane Wash which we would then follow down to Coyote Gulch. There is no trail to follow so we ended up doing a lot of ups and downs over slickrock domes and into short slot canyons, often getting turned around.
A view of Chimney Rock and a small arch along the route into Hurricane Wash
There was a lot of extra color around.
Taylor playing in one of the slots that turned us around.
A storm brews as we hike on towards Chimney Rock.
After several hours of hiking we found our way into Hurricane Wash
Taylor, Ethan and Nate hiking in lower Hurricane Wash
The confluence of Hurricane Wash and Coyote Gulch. Nate is in the background, still in Hurricane Wash.
Upper Coyote Gulch
Our camp for the night, just upstream from Lobo Arch.
Rain was not in the forecast for the rest of the trip so I slept out on my tarp with Taylor and Ethan the first night. I'm usually kind of freaked out by the creepy crawlies so it was kind of a big deal for me. It was awesome to lay there and see the stars throughout the night. Unfortunately, just as it was getting light out we woke up to rain drops. It was a mad dash in our underwear to get some tents setup for shelter. This is Nate and I hiding in my tent.
Me, sitting on our camp cliff after the storm has passed.
We took our time packing up camp and made our way down canyon towards Lobo Arch (aka Jacob Hamblin Arch). There's no way you can understand the scale of this without being there. Look for Taylor, Ethan and Nate in the photo below.
A very deep undercut on the Lobo Arch fin.
What, what? Toilets?!
There are two of these in Coyote Gulch, one just downstream from Lobo Arch and one further downstream below the spring. These are 5-star, grade AAA pit toilets, great to see considering how much traffic this canyon gets.
We only hiked a couple of miles before deciding to drop out bags in a new camp. We chose the alcove at the Swiss Cheese Falls which turned out to be a great camp. We spent the day playing in the falls and laying in the sun enjoying ourselves.
We were just laying around when we were approached by several horses, what a surprise. They were hobbled and we later found out there was a guided group just around the river bend from us. They made a point to tell us about the dutch oven ribeye steak they had for dinner.
Back in camp, Taylor and Ethan playing a game and Nate taking a nap.
Another view of camp.
Ethan and Taylor playing chess.
Evening light on the canyon walls.
The famous Swiss Cheese Falls.
As dark fell I did a little light painting around camp.
The next day we were on our way down the canyon to find camp three.
There ARE fish in Coyote Gulch!
Coyote Natural Bridge
Some pictographs
A perfect grinding stone used hundreds or thousands of years ago to grind grain. It fit perfectly in a groove in a larger rock. I was amazed it hadn't been stolen.
The first of several good waterfalls we would encounter on this day. Time to get cleaned up.
and another...
Jug Handle Arch
The top of another waterfall
And yet another...
The spring. Too bad you can't really collect water from it. Fortunately we found another further down canyon so we didn't have to filter any water this day.
Camp three
The view of Steven's Arch from camp camp three.
I wish I had an audio recording of what the canyon sounded like the last night. Toads, toads and more toads making craaaazy noises. Here's one we caught sneaking into camp.
One last attempts at star trails. This one unexpectedly killed my last battery so I didn't get to take many pictures on the hike out the next day.
In the morning we hiked down to the confluence with the Escalante. Word of wisdom, when you get to the big waterfall over the boulders, leave your backpacks. It's a dangerous exposed traverse to get over to where you can climb back down to the river. I didn't take any pictures because I wanted to save the tiny bit of battery strength I had for the hike out to Crack-in-the-Wall at the top of the 1000-foot sand dune.
Looking back at the sand dune, near the top.
I was too big to fit in Crack-in-the-Wall so I had to climb up the outside edge of it. See the ledge to the left of the crack, first onto that and then onto the tall skinny part and then over about 40 feet.
Climbing over Crack. Really easy but lots of exposure.
Packs wouldn't fit either so we pulled them up with some rope.
5-Day Cooler, you're awesome.