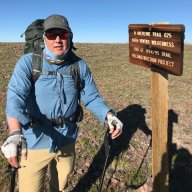 The mountains are calling and I must go
Joined

Mar 31, 2013
Messages

1,024
After months of planning & prep I got to lead a group of scouts into Coyote Gulch over our Spring Break, April 10-12. I had scoured BCP and several guide books to become familiar with and be totally prepared for this adventure.
I mention that because, despite all my preparations, things didn't work out the way I planned, simply because that's the nature of working with other people. This resulted in us arriving at the trailhead much later than I would have liked.
Driving on highway 12 towards Escalante, Hole In The Rock Road is clearly marked. Once on the Hole In The Rock Road, which was actually a decent dirt road, you'll drive around 40 miles.
Because I know how much Nick loves cows, I include this heard moving across the road.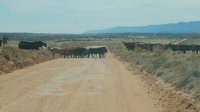 After driving for somewhere in the neighborhood of 40 miles you'll reach this sign and turn left.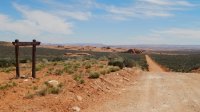 Once you make this left hand turn, the quality of the road goes down significantly.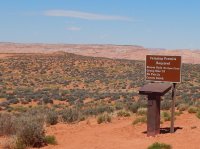 When you arrive at the trailhead you'll need to open this box and fill out a trip permit. Leave one copy in the box (it's a carbon copy form) and take the other with you. Having said that there wasn't any ranger-type present throughout the canyon.
After loading up our packs we headed into the desert toward the crack in the wall.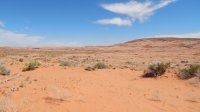 After an easy hike over sand and rock you'll reach the rim and get an appetizer for all the great scenery to come. I love this view because it's so big and wide open. It's one of those scenes that makes me feel incredibly small. It's a scene that, in my opinion, is worth stopping and spending significant time absorbing and pondering over.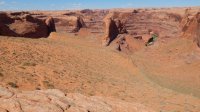 Focusing your attention across this expanse you'll find Steven's Arch, which I'm told is the 5th largest in the world.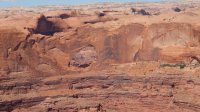 After descending through the crack you'll reach a well defined trail down the sand dune to the bottom of the canyon.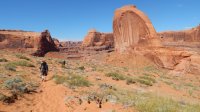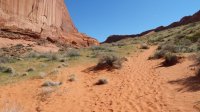 I must say that this sand is the softest and fluffiest sand I've ever experienced. I've never been to any exotic beach locations, but I've got to imagine that they would kill for this sand, were it white.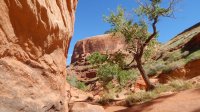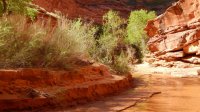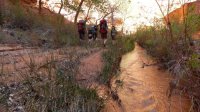 After reaching the bottom simply follow the river upstream. Most of the time the "trail" is walking up the river. Occasionally, a trail if found next to the river.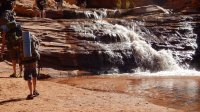 At the top of this waterfall there was a large rock overhang that was a perfect camp spot. Perfect because it provided great protection and was right across the river from the toilet.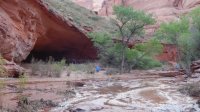 We didn't have too much trouble filtering water. Most used coffee filters over the end of their pump filters - which seemed to work great. I use a gravity filter so I took my vinyl bucket and scooped up water and let it sit for about ten minutes. Then I poured off the water, through a bandanna, into my gravity filter. Worked well for me.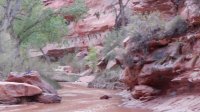 Next morning, I got up to try and get some photos. This was one of my favorites.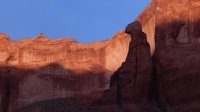 Then it was on the trail again. As I said earlier, many of these places were worth spending significant time pondering over. This group though, was anxious to keep moving, so we did.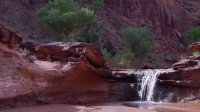 Cliff Arch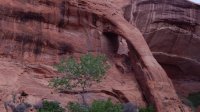 I had two regrets from this trip. The first was not finding the petroglyphs or the lagoon. My only other regret was only getting this one picture of Coyote Bridge.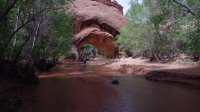 We stopped here for lunch as did many others going up and down stream.
Lobo Arch, more commonly known as Jacob Hamblin Arch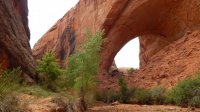 After discovering the site we wanted to take was already in use, we came back and set up camp in the "amphitheater." The acoustics here invite every kid to yell, "echo!"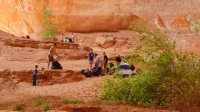 Fortunately, enough fear had been placed into our boys that one or two "echo's" was enough. Unfortunately, several families moved in next to us that broke almost every rule of respect for the outdoors and neighbors. There were probably 8-10 kids all under the age of 10 that weren't satisfied with two "echo's!" They kept going all #$%@!!&* night with the "echo's!" Then is was fires & shadow puppets on the wall with their flashlights.
As angry as I was about it, it proved to be a great teaching moment for my boys. They got a taste of bad wilderness manners and learned how much it sucks to be next to such people. I don't suppose I'll have to use scare tactics again.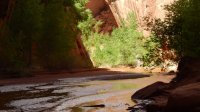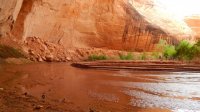 Because we were covered by rock both nights, I went a little beyond my personal comfort level and just laid out my tarp and slept without a tent.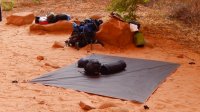 I mentioned that we arrived later on Thursday than planned. That caused a change in our route. Because of that change we ended up going out by climbing up this rock at Jacob Hamblin Arch. I have absolutely no fear of heights. I do have a fear of falling though. I experienced that fear at one particular spot on the way out. It wasn't terribly difficult though. One of the adults in our group became the unofficial trip leader, climbing up and lowering down a rope to me at two or three different spots. Without that, I would have never done this. Most of the boys did it without a second thought.
Being a Saturday morning there was quite a bit of traffic going up and down.
View from the top.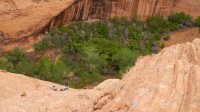 Let me say that, this was quite an accomplishment for me - climbing up this rock. There was a definite sense of accomplishment. Which is one of my favorite things about the wilderness - doing hard things.
As was mentioned in a previous thread, The Hole In The Rock Road can take it's toll on tires. Thus, we found a damsel in distress and as good scouts we stopped and changed the tire for her. Except all the boys did was play with her dogs in the back.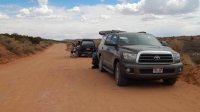 While we were stopped, the clouds were quickly moving in.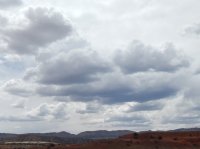 All in all, it was a fantastic trip! I anxiously await the time when I can return.
On our way in, we stopped at the Hole In The Rock Visitors Center. I appreciate this saying they have on the wall in regards to the pioneers who traveled the Hole In The Rock. Maybe you'll find some value too.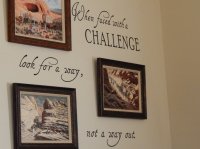 Featured image for home page: